Tarabya (or Therapiá as it was once called) is a neighbourhood located on the European shoreline of the Bosphorus in Istanbul. Due to microclimate, believed to be therapeutical especially in the summer, these shores were where the sultans and foreign embassies had their summer residences during the Ottoman times. The small bay, which is turned into a marina now, housed the Tokatliyan Hotel, one of Istanbul's very few luxurious hotels during the early 20th century. The hotel was hugely popular up until its destruction in a huge fire in 1954 and continued to be an international destination and a famous film set for local films (under the name of The Grand Tarabya Hotel) after its reconstruction. Like many other grand hotels of the early 20th century, Tarabya Hotel had witnessed the social, cultural and economical changes in the country while losing its charm and grandiosity during the process and eventually closed down. Today, after the recent renovation, you will find a modern hotel behind the kept façade of the Grand Tarabya Hotel, which might bring back memories of late 60s and 70s but you'll be disappointed if you were looking for a trace of the once famous Tokatliyan Hotel as it has long gone.
Located at the entrance of the Tarabya Hotel, R.E.A.D Café & Bakery, as charming and inviting as its name, is indeed a very comfortable café where you can eat or have meetings, work alone or simply sit in a corner to read your book whilst sipping your coffee/drink and enjoying the beautiful view overlooking the small marina. It was designed to create the calming and relaxing atmosphere of a reading room and has a library from which you can choose books to read or buy. We were told there were more than 200 books but the number seemed much less during our last visit. It would definitely be a good idea to add more books.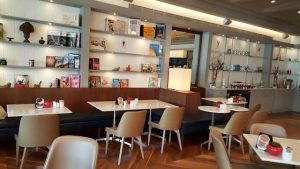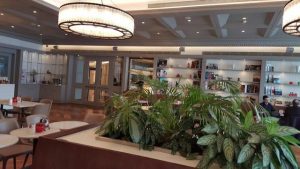 The menu is quite extensive and includes many healthy food and drink choices, as well as delicious but perhaps not so healthy desserts. We had coffees and an omelette, both of which were fresh and well made.
There is indoor and outdoor seating spread over a large area and this is a feature to be enjoyed as you won't find such generously allocated space in most recent urban hotels. Despite the chaotic and extremely congested traffic along the Bosphorus especially during the summer weekends in addition to the haphazard urban sprawl and neglected, rundown infrastructure in the area, this is still a 'therapeutic' location where you can enjoy the pleasant breeze coming from the Black Sea opening of the Bosphorus.  Just be aware though, you won't have much peace and quiet during the weekends, especially if the weather is nice.
Address: The Grand Tarabya Otel, Haydar Aliyev Cad. No:154, Tarabya, Istanbul, Turkey
Tel: +90 212 363 33 00
Open daily from 08:00 till 01:30
http://www.thegrandtarabya.com//dining/read-cafe-bakery.aspx