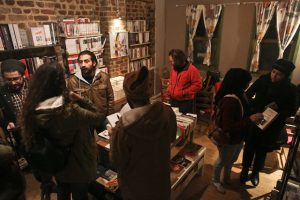 Just across the grand Chora Museum in Istanbul's 8500 year old Fatih district, there is a narrow dead-end. The buildings on this street are old and monochrome, but the second to last one is freshly painted green. It carries a great, orange palm symbol reminiscent of the Hamsa and, below, the word "Pages." This four-story building contains everything from children's books to world literature, and they are all in Arabic.
Pages is Istanbul's first Arabic bookstore, and caters primarily to the city's Syrian population. Samer, the owner, is originally from Hama, but had been living in Damascus since 1982. When he fled his country for Istanbul in 2013, he had only his wife, their two children, and 4000 Dollars.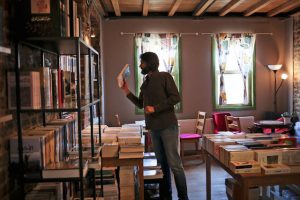 There are over 300,000 Syrian refugees living in Istanbul today. Samer and his family want them to feel at home at Pages. Customers may read, buy or borrow the books. In case they may just want a cup of tea – or company – the store also functions as a café. Twice a week, it offers live music to its guests.
"For me, for an insider," he said, "What they are destroying in Syria are not the buildings, the streets, not Palmyra… It's the people. There is nobody left." He plans to go back the day his country becomes free. Pages, he hopes, will continue to serve the people of Istanbul. It is the best gift he could give to the city.
Review by Merve Tahiroğlu
Address: Ayvansaray Mah. Kariye Çıkmazı Sok. No:5, 34087 Fatih, İstanbul
Phone: +90 212 531 0185
Opening Hours: Weekdays and Saturdays from 11:00 till 22:00. Sundays from 14:00 till 22:00
http://www.pagesbookstorecafe.com/