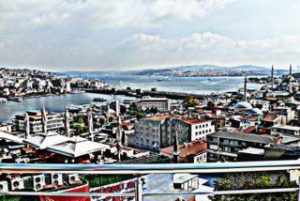 There are several cafes  along the Fetva Hill, just five minutes walk from the magnificent Süleymaniye Mosque in Istanbul. One of these, Cafe 90'lar (means Cafe 90s) is one of my favourite cafes in Istanbul. Its breath taking view covers the spectacular scenery from the Golden Horn and Topkapi Palace to Galata Tower and Camlica.
The cafe is laid on three cheerfully decorated floors. Colourful chairs, photos of the old Turkish movie stars, which cover the walls and tastefully displayed vintage objects, such as old sewing machines and typewriters, create an engaging and attractive space.
Café 90'lar serves snacks, breakfast, brasserie dishes and patisserie items.   Their extensive menu includes traditional Turkish breakfast and dürüm (a delicious burrito like wrap with various different fillings), as well as international food, such as various types of omelette, variety of toasts and sandwiches and pizzas. Drinks menu has the usual traditional and international offerings: Tea, Turkish coffee, Turkish apple tea, ayran (a local speciality prepared by mixing the yoghurt with water), various soft drinks and herbal teas. The service, delivered by Café 90'lar's very young and friendly staff, is impressingly fast.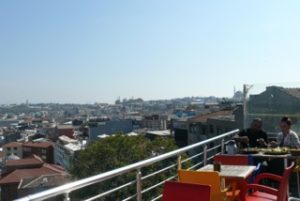 There is a small but very nice terrace too, where you can smoke water pipe and play backgammon.
Last week, we had our book club meeting in Café 90'lar and enjoyed the view as much as we've enjoyed our book!  It seems Café 90'lar is much preferred by the university students as it offers plenty of quite corners to study.
Address: Demirtaş, Nazır İzzet Efendi Sok., No: 32Fatih, İstanbul 34134
Tel: +90 212 513 0829
Opening daily from 08:00 till 01:00
Review by Işın Tuzcular