Gravity's Rainbow – Thomas Pynchon – 1973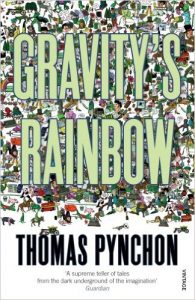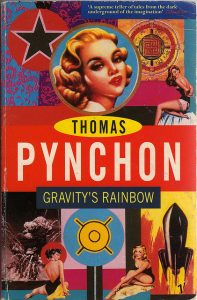 Reviewed by: Charles Dittell   Date: 13 September 2004
Amazingly, no one has yet reviewed this book on this site; I consider it the finest book of the 20th century. It is a difficult, disturbing work, with loads of references beyond the reach of the average reader, but all that is fine, so long as you let yourself be taken into this paranoid world. Parts of the book are so disturbing that I wouldn't recommend it to a child (or a teen), but within the complexities of the story (stories?) lies genius. If you can let go of preconceptions and read Gravity's Rainbow with an open mind, you will be well-rewarded.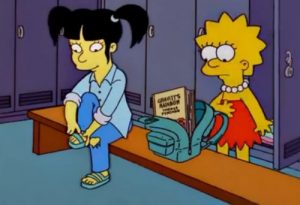 The Simpsons and Thomas Pynchon
http://www.avclub.com/article/thomas-pynchon-edited-his-own-simpsons-dialogue-208723
https://www.youtube.com/watch?v=QcYXWfGt7DY

The author is famously reclusive—very few photographs of him exist, and his address and even hometown are well-guarded secrets—and as a nod to that, his two Simpsons appearances depicted him with a bag over his head.
As it turns out, Pynchon contributed more than an in-joke for English Lit majors. During last week's Every Simpsons Ever marathon on FXX, Simpsons executive producer Matt Selman tweeted images of notes Pynchon made to the script for his second appearance, "All's Fair In Oven War," in which he casts a critical eye on Marge's cooking (which he'd previously done for Marge's writing). Pynchon contributes his own jokes—including a pun he made on his best-known work, The Frying Of Latke 49—and draws the line at calling Homer a "fat-ass."