Ferdydurke – Witold Gombrowicz – 1937
Get Ferdydurke from Amazon nearest to you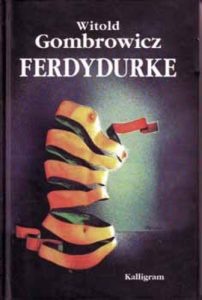 The following is a compilation of discussions and reviews from the previous version of our website. We hope you enjoy these older deliberations. Just beware, there are spoilers in here.
ReadLit Team
What fun! Not long ago my wife and I saw a stage version of Ferdydurke at La Mama, down the street from us. Witold Gombrowicz enjoyed a long, productive exile in Argentina, and I'm pretty sure Ferdydurke was translated and published in Spanish long before it became available in any other language. My wife read it as a girl, and we have her torn copy here on our shelves.
Best,
Geoff
Very good choice of literature, one of the best (used to be very controversial) Polish authors.
Jarek
Posted by todd on 11/11/2003, 3:29:43
I just received my copy of Ferdydurke and I'm reading the Susan Sontag foreward. I love Susan Sontag… How long do I have to finish? Unfortunately I won't have time to read it all in one or two sittings (my preferred way to read a novel) because of school assignments. I'm reading Gargantua and Pantagruel which seems like a good compliment to Ferdydurke.
Last night I pulled "Four Decades of Polish Essays" from my shelves and found selections from Gombrowicz's diary regarding the book we're reading. For anyone interested in Polish letters (or literature and philosphy in general), this is a great book with entries by Zbigniew Herbert (a fascinating account of the Templars) and Jerzy Stempowski who tells a fantastic story about being trapped in a remote Carpathian smugglers' hideout, in the winter and near death, with a random assortment of books during WW2.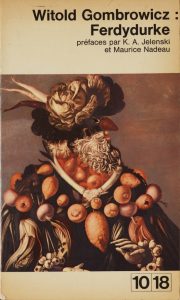 Posted by Lale – cuculiner – l'encuculement
"Cuculiner" is an important part of Ferdydurke, evidently, since it is on the back cover of my copy, as quoted from W. Gombrowicz":
'Je suis l'auteur de la "gueule" et du "cucul" – c'est sous le signe de ces deux puissants mythes que j'ai fait mon entrée dans la littérature polonaise. Mais que signifie "faire une gueule" à qqn ou "encuculer" qqn? …'
I asked some of my French friends and they don't know what "l'encuculement" is.
The verbs "cuculer" and "encuculer" don't exist in Petit Robert either. There is "cucul" as an adjective and it seems to mean "a little ridiculous". So, I can only assume that cuculer (v) means to ridicule.
Posted by Pierre Pigot on 11/11/2003, 20:19:16 – A propos de "encuculement"
As a good little Readliterature intervenant, I've bought my copy of Ferdydurke, in french translation, and on the back cover of my edition, is quoted an explanation of "encuculement" Gombrowicz gave in his "Souvenirs de Pologne": it means "to consider an adult like a child, to infantilize him".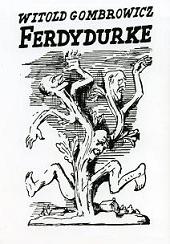 Posted by Christopher on 12/11/2003, 3:15:27
In the English translation I'm reading the translator has kept the original Polish for this term. The English version of "encuculement" (rather vulgar in the French, I find) is "the pupa". It seems not a day goes by and somebody intices me to groan inwardly: "Ahh, the pupa…"
Get Ferdydurke from Amazon nearest to you
Posted by Christopher on 4/12/2003, 4:29:45
I have received so many e-mails, telephone messages and telepathic signals over the past week that it has become very clear that everybody is very anxious to start talking about Ferdydurke. If encuculement is any indication it promises to be a lively discussion. I've been telling all my friends, even anonymous strangers, that Ferdydurke is the rage of the month. They look confused – the word Ferdydurke followed quickly by Grombowicz even when pronounced in the world of academia do not vouch well for your sanity or the relevance of your interests. But hey, I did have my library copy recalled, which just goes to show that Grombowicz is ready to take the continent (o, yes, and the rest of the planet) by storm any time soon. The Journal makes a great stocking stuffer, Pornografia makes a great complement to any New Year's celebration, and before we know it we'll all be well versed in Mickiewicz as well. Ah, the pupa, the pupa…
Sadly, the person responsible for this earth-shattering revisitation of an author who was pretty sure that if he was anything it was a bunch of parts, begs his esteemed colleagues, friends or otherwise at readliterature to allow him a few more days to see his work to completion (with all the press that this has elicited, it has been hard keeping up). And then there's the music of Schubert and the poems of Muller that would drive any sensitive soul like myself on a wayward path – but that is another story. See you on the weekend. If you can't help yourself -please, be my guest. I understand all too well the joys and hardships of compulsion.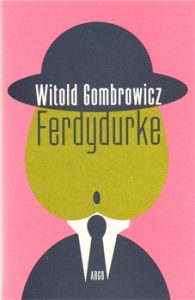 Posted by len on 8/12/2003, 21:39:05
I'm all of ten pages into Ferdydurke and I am seriously put off by all the blather about opinions and maturity, which is not only woolgathering but total BS as well.
Posted by Pierre on 8/12/2003, 21:45:18
AH! It seems I have somebody thinking the same thing as me!
I'm going to launch into some M.D.C (Massive Destruction Critics), but, I would like to know if there is a volunteer to argue in favor of this poor little book before its disintegration.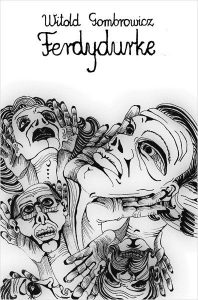 Posted by todd on 9/12/2003, 1:45:51
It does get better. I'm 100 pages into the book myself and the first 60-70 pages were a struggle. Gombrowicz's inane take on self-reflexive writing makes sifting through the jabber tedious. I couldn't locate exactly WHAT was being satired.
Doing a little background on the book I found a short review of the theatrical production of F. in the Guardian that provided a helpful piece of advice:
"The piece pokes fun at sexual hypocrisy and the rigid conventions of class, but it works best if you stop trying to figure out exactly what is being satirised and what it all means, and simply surrender yourself to 80 minutes of tightly controlled anarchy." (Guardian article)
Maybe I'll stop trying so hard to figure things out as I go along and hope that in the end, the work as a whole will reveal something…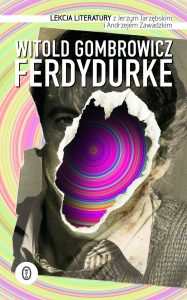 Posted by Christopher on 10/12/2003, 6:57:58
Such strong words from the anti-Ferdydurke contigent! I will have to set aside a special place for them in my tiny private drawer dedicated to the the scorning of W.G. In that drawer, preserved by the omnipresent odour of moth-balls, one can also find little pieces of string that have been worked into microscopoic nooses. They lie there among so many particles of dust in wait for the moment W.G.'s soul will appear, atrophied from having suffered such posthumous abuse, to die a second death at his own hand. "Oh, Ferdydurke, leave me in peace!!!"
I haven't finished the book, but I don't think that it matters: I think it's incredible. Why? — Humour, imagination, satire, absurdity, the writing against the grain of form and expectation, the courage to be personal brought to the level of an obsession. It is a unique testament about one writers relationship to art, the act of writing and the forms in which it is couched. G. celebrates writing as an extension of an individual body and fiercely mocks the aesthetic posturing that ultimately hinders the communication of its own medium.
Ferdydurke is the writing out of a dark jubilance. It cuts, indeed, it queers across all novelistic expectations. It holds together thanks to the intensity of its individual shreds: it does not understand organicism (remember the passage about the author who had to write a book in the "heroic" tone because he happened upon that sentiment in his opening phrase and felt compelled to continue on, heroic, until the end – until death …). The book rapes literature through the ears, practices marksmanship on both the "moderns" and the "traditionalists", questions the ability of "love" to be a suitable literary theme… and I still have 100 pages to go.
Please, have patience with Witold — his life was no ride in the park: no yearly collect of nominations, prizes and critical accolades, no homeland, no assurances — just his white, unathletic body sweltering among tanned, muscular adolescents in Amazonia.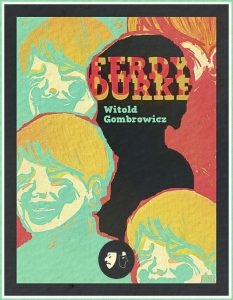 Posted by Pierre on 10/12/2003, 17:04:00
The novice reviewer but experimented reader (the humble writer of these lines) rarely dreams of Poland. He has crossed the United States from East to West with immortal writers, wandered in Dublin following neo-homeric monologue-fans until an non-existent final point, survived to the multicolored time spirals of Little Marcel and the desintegration of a whole world, dwelt in the details Count Lev was so much generous along his novels. Suns and seas, bodies and souls, life's soft melancholy and hilarious excentricities, man's dark horrors and imperishable passions. And now, he's offered Poland. A very small corner ; in fact, a mad writer's mind. What do we now of Poland? (In France, in my case?). Not very much, I must say. Well, there's Frédéric Chopin (but more French than Polish, no?), and Lech Walesa, and…, hum, the Pope, Mister Two? OK, we know nothing of Poland. But, alas, we shall not learn much more with Mister Gombrowicz. "Ferdydurke" seems to be the story of a man regressing into childhood. This is the plot, not more. I know a thin plot is not an argument nowadays. This strange psychological metamorphosis could be enough for a second-hand Kafka to navigate between fantastic strangeness and psychic analysis. But Gombrowicz doesn't care with this. He's launched in an entreprise of destruction of all the basis of novel genre – plot, characters, linearity – and "Ferdydurke" is his Troyan horse : inside the trap, he's waiting us insidiously in a dark corner just to scream in our ears his erratic thoughts. Maybe Gombrowicz's theories are much more organized than I could guess while reading with my implacable judgement. But it didn't strike me at all. What stroke me since the first pages was the endless hystery of his style, like a person endlessly telling you things you don't understand the importance they seem to uncover. The emphasis on maturity is just childish nonsense, pointless, common, and rather vulgar – compared with another school tale, "La Guerre des Boutons", the later seems a postmodernist chef-d'oeuvre.
Gombrowicz's style, at every paragraph, makes erratic jumps on every sides, the victim reader is desperately waiting for some stop, but no, any pause is refused to him, surrealist images are forming higher and higher pics and fading into formless fantasmagories painful to read, dialogues are always boring nonsense, repetitive until you let the book fall on your knees. To have an idea, think of a schizophrenic and monomaniac old clown making a foolish show in front of a reduced audience during seventeen hours without any laugh. A heavy allegory, not even worthy of pity, really. And too bad for Poland, too.
I finished this book with pain and disgust (my daily three-hour train travel ought to have better divertissements), and I'm not surprised to discover that I have forgotten most of the scenes since.
I give it two stars, because I'm in a generous mood, and because I'm conscious of being probably too harsh with what is called "a modern masterpiece" by so many. I advise to class it up with "Finnegans Wake", another literary unreadable disaster. Oh, good, I'm going now to reread Ulysses, the REAL modern masterpiece. Good evening, ladies and gentlemen.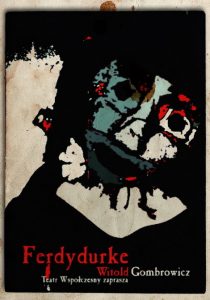 Posted by Lale on 11/12/2003, 16:29:35
"Joey," they would say between one babble and another, "it's high time, dear child. What will people say? If you don't want to be a doctor, at least be a womanizer, or a fancier of horses, be something…be something definite…"
This line alone shows the potential of the book. I wish I had the concentration to get past the first pages.
Get Ferdydurke from Amazon nearest to you
Posted by Christopher on 11/12/2003, 17:11:12
The nooses in my message aren't for the anti-Ferdydurke contigent! The only thing that goes in the drawer are the words about Ferdydurke and, oh! I see him coming forth from the shadows at the rear; a lump of a thing really, dishevelled, broken and haggard, his eyes are red with sorry and pleading his executioners…WG is awake!
I will sit down this weekend with the father of Joey. We plan on having a long chat – so much going on these days – he has a sore foot I understand. Poor thing. I will tell you what was said.
Notify the press.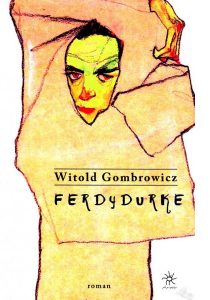 Posted by Christopher on 12/12/2003, 1:23:06
I just finished the chapter entitled "Fruit Compote". The last paragraph had this striking phrase which seemed to me to act as an allegory to post-modernism:
"The fruit compote made it clear to me. Just as I had messed up the compote by changing it into a dissolute pap, so could I destroy the schoolgirl's modernity by introducing into it foreign and heterogeneous elements, scrambling everything up for all it was worth."
…….. I hear screaming in the drawer!
Posted by Lareina on 12/12/2003, 22:43:00
I understand and share your difficulty with this book. Sometimes it helps to shuffle the imagination along and to add to the intrinsic delight of reading the absurd the visions of this poor scrawny author WRITING the absurd. I also have the image of another WG apostle absorbing these well-written words, thereby gleefully nourishing his culcul. I've just cleared page 100… The surprise Boston blizzard last weekend took its toll on my immune system in the form of laryngitis and now unfortunately unable to communicate with my fellow Ohioans, I cling to this book, hoping that somewhere in its pages is scribbled the secret phrase that will summon once again a joyous giggle… Courage!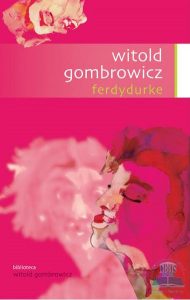 Posted by Todd on 14/12/2003, 0:45:25
For those of you sticking it out: there is a method to his madness. The maddening repetition of thought, the incoherence is crucial to where this book goes and it is important and couldn't have been accomplished otherwise. It's no accident that it's an ordeal to read, it was written that way. A clue: think of the narrator as the embodiment of Form itself and the book as a mechanism to get to the heart of what elements can survive which deforming processes and how. Sorry if this remark isn't itself coherent. I'm in the middle of finals here and my brain is shot.
I'm still working on Ferdydurke because I do believe in the power of difficult things to be transformative and I'm honestly starting to enjoy it. I could be wrong of course, it may be overestimated by critics. But I'm willing to risk wasting my time if necessary. I do wish I had the time to read it all the way through in one or two long sittings. That's the only appropriate way to read a novel and I feel that I've let this book down, not vice versa.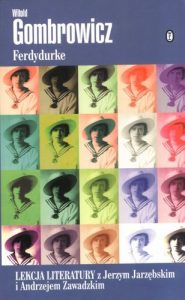 Posted by Christopher on 14/12/2003, 5:14:08
An Enthusiastic Review for the Sake of Ferdydurke
I feel compelled to come to the rescue of Ferdydurke (even though WG would surely laugh maliciously at me for wanting to come and save HIM) despite the realization that most have you have moved on in your reading to something different.
I finished the novel this evening and although I admit that it is not the most "beautiful" thing I've ever read, it is certainly one of the most passionate, energetic, jubilatory and intriguing works that I have ever come upon. Now, I don't mean to deal you all the pupa and follow in the shadow of S. Sontag's pupa about what a monsterpiece Ferdydurke is. I'm sure that if S.S. couldn't convince I will certainly be incapable of doing the same. So, I'd like to share in the frankest spirit of electronic camaraderie my ENTHUSIASM about a book in the same way I would, perhaps, expound about it in a drunken state after a wine-drenched meal with well-intentioned friends who would forgive me in the morning for almost anything. Criticism is such a vain, demeaning activity and I really don't know anything about literature (that's what my teachers always said) so I have about as much authority here as the guy who sold me a case of beer at the store a few hours ago. Just as well.
So, I loved the book. No embarrassment, no blushing. LOVED. Initially, the first three chapters were hard to get excited about – I felt bad about having imposed it upon everybody. There was a moment when I felt I would never finish. But then I saw Lale in my inner eye – Lale who has been so wonderful to me: that inner vision was like a whip to my tender pupa; coaxing me on. Then came "Preface to "The Child Runs Deep in Filidor" "and I was hooked. It is in this chapter that the Neitzschean quality of the novel (mentioned by S.S.) comes to the fore. The chapter is an aesthetic creed that brutally analysis (and mocks with bitter irony) literary production, writers, their aesthetic posturing and their ultimate dependance, despite any claims to individuality, on the most basic and degrading of conventions: (p. 75-77)
"Believe me: there is a great difference between an artist who has realized his potential and a horde of half-artists and quarter-bards who merely dream of doing so. And that which befits a fully fledged artist has, when it comes from you, and entirely different ring. Yet you, instead of conceiving ideas to your own measure, ideas that fit your own reality, you adorn yourselves with someone else's feathers – and that is why you become mere hopefuls, forever inept, whose grades will never be more than a puny C, you servants and imitators, vassals and admirers of Art, which keeps you in its antichambers. […] I'm thinking about your life, do understand me, I'm purely troubled by your personal situation. You just can't break free. Oh, this inability of yours to cut the umbilical cord that ties you to mankind's rebuff! A soul rebuffed – a flower unsniffed – a candy that wants so much to be tasty but pleases no one – a woman spurned – all these have always caused me sheer physical pain, I just can't bear this lack of fulfillment, and when I meet one of those artists downtown and realize to what extent an ordinary rebuff lies at the basis of his existence, how his every move, every word, how his beliefs, his enthusiasms, his every comma, his hurt ego, his pride, his crying shame and suffering, how they all give off the smell of an ordinary and unpleasant rebuff, I too feel shame."
Throughout the novel, Gombrowicz concentrates and uncovers the stifling weight of convention in every conceivable circumstance and situation of human interaction and thought. The following chapter "The Child Runs Deep in Filidor" explores the implied chess analogy by pitting two great Professors against one another (it is not entirely clear what they "profess" ( Synthesis and Analysis) and is absolutely secondary to the author's point). He mocks the antipathy these two professors feel toward each other, their competitiveness and their blind attachment to the ideals that have brought each of them to master their particular discipline. The importance of the professors' respective opinions – their "scholarly" pupa – is belittled by Gombrowicz: (p.88-89)
"The Doctor and master of Analysis declared:
"Noodles!"
The Synthetologue responded:
"One noodle!"
The anti-Filidor roared:
"Noodles, noodles, namely a mixture of flour, eggs, and water!"
Fildor retorted instantly:
"Noodle, namely the higher being of the Noodle, the highest Noodle himself!"
His eyes flashed lightning, his beard fluttered, it was clear that he had scored a victory."
Gombrowicz then introduces basic desires into the equation to compete with this scholarly gibberish. The lure of money and loose virtue strip the professors of their immature maturity, they end up fighting a duel, firing at and missing each other, and take glee, like a couple of kids, at practicing their shots on the women standing around:(p.99)
"The shot was masterful! The finger fell off. Mrs. Filidor, surprised, lifted her hand to her lips. While we, the seconds, momentarily lost our composure and gave a shout of admiration."
And later: (p.101)
"And whenever anyone from the world of science reminisced with them about their splendid past, their spiritual battles, about Analysis and Synthesis and their glory irretrievably lost, they would reply dreamily:

"Yes, yes, I remember that duel…the pop-popping was great!"
Prof. Analysis and Prof. Synthesis have both regressed to what they conceive as a revitalizing childishness (which takes the form of absolute violence). However, even here, Gombrowicz has the last laugh, for he shows that their childishness is also dependent upon a convention: the marksmanship contest is conducted in such a way that the professors COPY each others shots. They have no individuality, and are completely reliant upon each other ("noodle, noodle, noodle") even in the childishness of their shooting pursuits. This is a bleak, catastrophic, message and underlines powerfully but subtly Gombrowicz's point that adherence to convention is ultimately demeaning and regressive, but impossible to escape entirely.
Chapters 6 to 10 explore this theme more thoroughly, by stressing the conventional modes of behavior that underlie "traditional" and "modern" values. He shows once again how these values are supported by absolutely nothing, and exposes, through the lure of the body and sexuality, how posturing, aesthetic stances, social conventions and artistic convictions can be toppled like a castle of playing cards. The ensuing regression into an infantile state is absolutely disgusting, and both here, in the classroom and later in the country manor, the narrative concludes with bodies rolling around on the ground in a heap. This is what the cult of the pupa promises: the layering of multiple crusts of culture and convention for the sake of culture and convention leads to disaster. To be led on blindly by the pupa is weak, childish, immature, infantile and leads to slavery – but we are bound by the pupa, because the pupa is us – it is my ass. The social dialectic is clear and subtly enunciated in the age of Hitler. In all those Hollywood holocaust films, at least one scene has some Nazi soldier playing Beethoven on the piano – in such a thing we understand the results caused by blind adherence to the pupa.
If you wish to have some idea of what the theme of this book is, simply turn to Chapter 11 and read the five pages that comprise it. Gombrowicz basically enumerates all the themes and inspirations behind the novel or, at any rate, the multiple causes of enslavement to the pupa. A sample: (p. 195)
"the torment of the semi-intelligent
the torment of the non-intelligent
the torture of the intelligent
or maybe simply the torment of the petty-intelligent indecency
the pain of stupidity
of wisdom"
The last three chapters are perhaps the most explosive, violent and gripping pages of the novel. Joey is with Kneadus who is still longing after the ideal farm-hand. During their search they are rescued by Joey's aunt who brings them to the country manor where she and her husband rule the village in a feudal fashion. Kneadus's infatuation with one of the servants disrupts the strict conventions of the manor (that the servants are violated by the served) and in spectacular fashion bodies once again end up in a heap on the ground punching, kicking, biting and scratching. Kneadus is not liberated by the farmhand – once again he is dependant upon his conventions and is so enamored by the ideal of the farmhand's innocence that he replicates his speech: (p. 256)
"Ah'm not leavin' wit'out Valek! Ah'm not leavin Valek to 'em! Let's take him – ah'll work for our livin' for our home – ah'll drop dead before ah leave this Valek of moin! For chrissake, Joey, not wi'out Valek!"
A novel about the debilitating influence of convention could hardly be a conventional novel. It is idiosyncratic to the point of an obsession. Gombrowicz is perhaps the most self-obsessed novelists that I've ever read, and what's better is that he jubilates in his self-obsession, he thrives within it, his personality dominates and practically smothers Ferdydurke. But, at the same time I object to it being considered woolgathering : the novel illustrates that behind the scrambled surface a profound artistic and philosophical vision is at work – it is an impossible one, destined to absolute ruin and utter despondency. It is the route of the sacrificial lamb – to be beheaded over and over and over again. We can never be free of everything – but that shouldn't stop us from trying.
I would love to go on, but I fear that my enthusiasm, long as it already is, is falling upon unsympathetic ears.
I give the book 5 stars. 5!!!
With Pierre's vote that means it gets 4 stars, right?
I hear the 31st WG in the drawer: "4 stars? I never would of thought…"
Get Ferdydurke from Amazon nearest to you