Our new find is the Plus Kitchen Café in Akasya Shopping Mall (on the Anatolian side of Istanbul), a relatively new addition to Istanbul's ever growing shopping malls.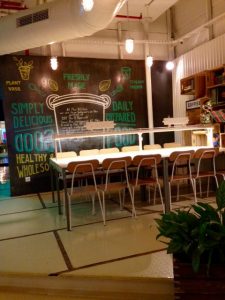 Founders of Plus Kitchen Cafés promise an environmentally responsible, authentic and inspirational experience and 'a way of natural and simple living' for those, who prefer to eat healthy and delicious food. Suitably, the seating area and interiors are designed to reflect the 'natural and simple living' concept but their emphasis is on healthy food that is inspired by recipes from all over the world.
The menu is extensive with all sorts of drinks, smoothies, snacks, sandwiches, wraps, salads, soups, mezzes, desserts and well suited to vegetarians/vegans. In-keeping with the Plus Kitchen concept, they all sounded healthy and delicious but perhaps this is what you'd expect from a manifesto promising exactly that! For us, the winner was the basil and ginger lemonade but our roasted aubergine soup and beetroot quinoa were fresh and well presented too.
Café manager and the staff were extremely friendly and welcoming. We were pleasantly surprised to see how well informed they were about the food they offered.
Tastefully selected wooden furniture and accessories, accented with green in-door plants helped creating a warm and welcoming atmosphere. Seating is very comfortable and roomy with free wi-fi and plenty of sockets (a rarity!) for charging your laptop or telephone. Cork overlays on the tables were extremely useful too, as they conveniently held the laptops in place. Nice touch!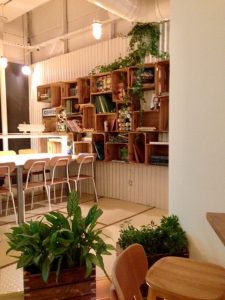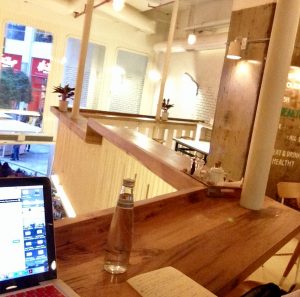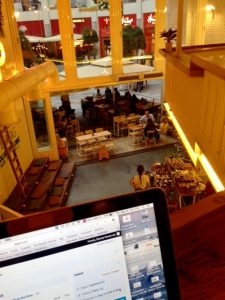 Plus Kitchen Café chain's Akasya branch provides ample and comfortable space if you want to work or study. There are some books and magazines to browse through but this is perhaps not "the" place for prolonged reading. It does offer a welcomed spatial and mental distraction though, if the confined and impersonal shopping mall atmosphere starts to get to you!
Address: Akasya Shopping Mall, Çeçen Sokak, Üsküdar, Istanbul
Opening daily from 10:00 till 22:00