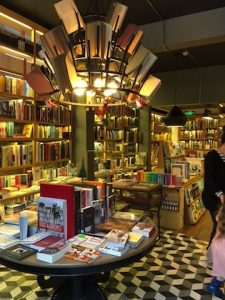 Literature lovers and bookworms in Istanbul, are you looking for a spot for working, reading, studying, having breakfast, lunch or a decent cup of coffee?
Minoa, an independent bookstore & café in Akaretler, is the place to go!
This cosy store/café with its beautiful interior with tall bookcases and relaxing atmosphere is the brainchild of a Turkish couple, Nazim and Petek Tokuz. Nazim's (he is an architect) professional touch is subtly displayed in the café's beautifully inviting interior that appeals to all senses with soft but apt lighting, enticing music, smell of freshly brewed coffee and of course books everywhere. The result is the welcoming, relaxing and inspiring atmosphere, which is a testimony to 4-5 years' hard work behind creating Minoa.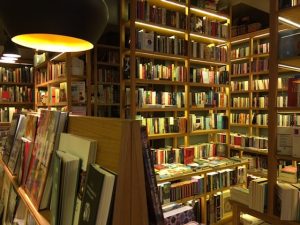 Minoa has 20 – 22 thousand books in many genres, ranging from children's, classics, art, history, design to cookery. They tour international and local book fairs to carefully select and import pretty much everything, except books with religious or pornographic content. Approximately ¼ of the books are in English.
Cheerfully presented selection of new books and tastefully selected gifts and cards that will definitely steal any booklover's heart greet you as soon as you enter the store. Walking through the café/bar section you get to the area where you can take a book from a good collection of second hand books (mostly on art and design) to your table and read them. Basement contains historical research and comic books in a series of cellar like rooms, which set the perfect atmosphere if you want to lose yourself in your favourite comic character's wild world!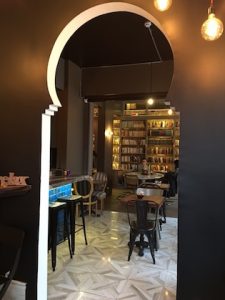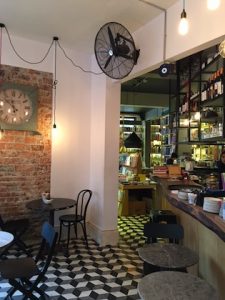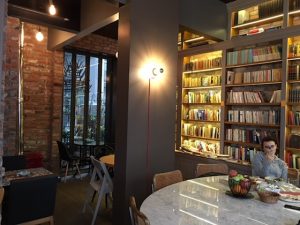 We were lucky to meet the founder Nazim Tokuz when we settled at the café to have a delicious breakfast on a cold and rainy Istanbul morning in January. It was refreshing to hear his passion about the future activities they plan, such as extending their collection of books, organising seminars, films screenings and musical evenings and his wish to see more book cafes where people can read, feel happy and relaxed.
It was clear that this passion was shared by Minoa's staff, who are booklovers and university students themselves, such as the manager Mustafa. Mustafa studied at a university in Istanbul and worked at Istanbul's famous Sahaflar second hand book market, which dates back to the 15th century.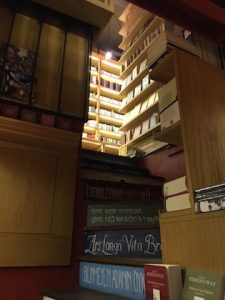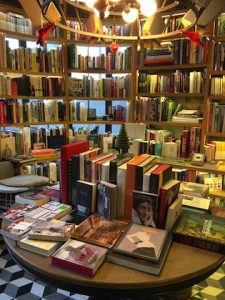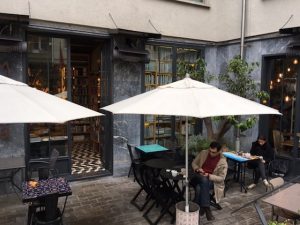 It would be injustice to Minoa not to mention the distinctively Mediterranean and very charming outdoor area complete with citrus and olive trees. Very befitting, as 'Minoa' is named after an ancient civilisation that survived on the Mediterranean/Agean island of Crete for almost 2000 years until about 1450 BCE. As sea traders they had interaction with ancient Egypt and Mesopotamia and were largely influenced by these cultures. It is believed that the Minoan civilisation's fusion with other ancient Agean/Mediterranean and Hellenic cultures made it a significant forerunner of the Classical Greek civilisation.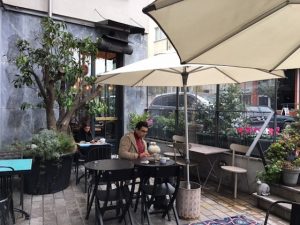 Daily objects or pieces of art, excavated by the famed archaeologist Sir Arthur Evans, who discovered and named Minoa after the legendary Cretan King Minos, suggest that Minoans had a highly developed culture with evidence of writing on clay tablets, various containers made on the potter's wheel and high degree of metal craftsmanship. The variety and quality of the art forms with geometric, floral and sea life patterns indicate the Minoans' love of nature and suggest that they were joyous, observant, largely peaceful people, who respected the nature and valued their environment.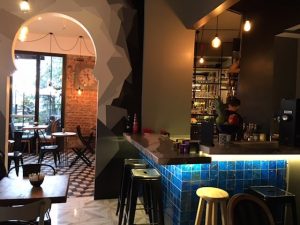 Minoa Bookstore & Café succeeds in creating a distinctively Mediterranean yet uniquely contemporary booklovers' haven that encourages us to share ancient Minoans' joy of life and respect for the nature and environment.
Go there for a delicious breakfast, lunch or early dinner. Cafe menu has an extensive range of freshly and attentively prepared food, snacks and drinks. Go there to touch, smell and feel the books, to attend the events or to meet fellow book lovers over a drink.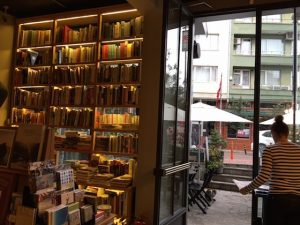 It was still raining when we reluctantly left Minoa's cozy and invigorating atmosphere. We passed through the outdoor sitting area with olive and citrus plants, glistening under the rain and stepped outside. Back to reality… Just watch your steps and don't trip and break your ankle on Istanbul's infamously uneven sidewalks that can pose a real challenge! Especially in the rain!
Address: Süleyman Seba Cad. Park Apt. No 52/A Vişnezade, Beşiktaş, Istanbul
Tel: +90 212 227 45 45
Opening daily from 08:00 till 22:00
https://www.facebook.com/pages/Minoa/644346608996335