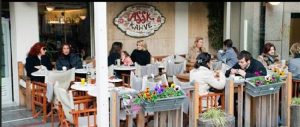 If you happen to be in Nişantaşı, İstanbul's most fashionable, high end shopping district and you are looking for a place to take a coffee break, meet your friends for afternoon tea or to have a relaxed and informal lunch, an old neighbourhood name, Aşşk Café (can be translated as 'Loove'; Aşşk means love in Turkish) is the place.
Nişantaşı suffers from all the usual problems that are inherent in Istanbul's urban areas: Infrastructure is out of date and worn out, streets are crowded, on-going constructions are a nuisance for residents, vehicles and pedestrians and traffic is a deadlock almost all the time. Yet, it still preserves the neighbourhood atmosphere and stay as a vibrant urban area where business and commerce can co-exist with residential use.
As well as being the spot, where the well-heeled shoppers browse through the luxury fashion brands, Nişantaşı is only a metro stop away from İstanbul's famous Taksim Square. Its narrow back streets house many small boutiques, restaurants, cafes, delicatessens, doctors' offices and residential flats. It is also in walking distance to several cultural attractions, such as the War Museum, the Cemal Reşit Rey concert hall, the magnificent pavilion in Ihlamur Valley and small and attractive Teşvikiye Mosque. One of the greatest advantages of this area is definitely the Maçka Park. This large green with its old trees, ponds, fountains and children's playgrounds provides an oasis for strolling, jogging and walking your dog without the distraction of traffic. A rarity in Istanbul!
Aşşk Café, well known to locals but slightly hidden for the first time visitors, is in a passage that connects the two main streets of Nişantaşı through the Reasürans building (named after the National Reinsurance Company it was built for). The Reasürans complex contains a small shopping arcade as well as the Reasürans passage and it is home to many cafes, pubs, bars and boutiques.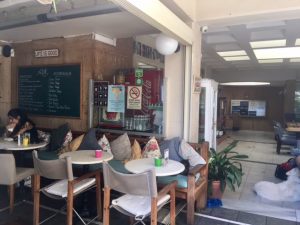 Aşşk Café's outdoor sitting area is actually on the open walkway part of the Reasürans passage, so it is perfect for spotting the shoppers or the local business people, passing through or stopping for a short break. Oh, and of course, sitting in the outdoor area gives you a plenty of opportunity to spot the trendily dressed and flawlessly coiffed ladies, who glide coolly on their impossibly high heels or leisurely sip their teas or coffees in the nearby cafes.
One drawback regarding the outdoor area is the smokers' section.   Non-smokers might find it disturbing. Otherwise, the outdoor area is surprisingly quiet and relaxing, despite being on the walkway. However, if you still need more privacy and peace, there is a small but very cosy indoor area too. It provides more comfortable sitting if you want to read or work. Wi-Fi is free but quite slow and erratic, unfortunately.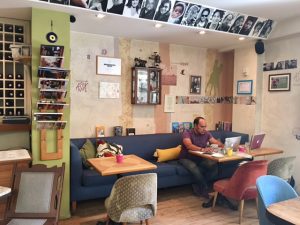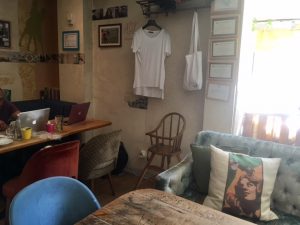 State of toilet facilities still remains to be a disturbing problem in most Turkish cafes. Unfortunately, Aşşk Café is not an exception. It doesn't have its own facility, so customers need to use the nearby toilets that are shared with other places in the Reasürans passage. Every time you want to use the facilities, you need to get somebody to unlock the door.
Aşşk Café claims that most of their products, such as bread, all patisserie, granola, jams, even ketchup and mayonnaise are homemade and the tea is always freshly brewed. It is hard to verify this claim of course but the bread was certainly fresh, whenever we tried. The tea could have been better but this is probably due to type of tea used, rather than the brewing. The menu is extensive and offers a selection of mostly international and some local dishes for breakfast, lunch, afternoon tea and dinner. Their pastas, omelettes and special sandwiches are particularly good. We tried a Turkish speciality, Menemen (a dish of scrambled eggs with tomatoes and green peppers) and wholemeal pasta with tomato, walnut and parmesan sauce. Both were delicious.
They serve a good selection of tea, coffee and herbal tea, as well as fresh fruit juices, lemonade and of course ayran, the local favourite, prepared by diluting yoghurt with water. Most alcoholic drinks and cocktails can be ordered in pitchers or by glass.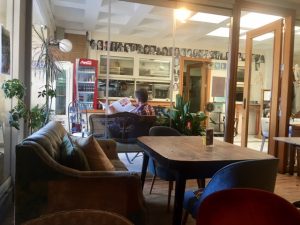 Service is friendly and low key. You are not pressured to consume and leave, which is very convenient if you intended to read or work. In line with the neighbourhood atmosphere, Aşşk Café serves as the local pub in the evenings. It has many daytime regulars too, who can be seen working or reading in their usual corners. You too will definitely be able to find a quiet corner to read or work in Aşşk Café, especially during the day.
Address: Abdi İpekçi Caddesi, Milli Reasürans Çarşısı, No: 63/66. Nişantaşı, Şişli, İstanbul, Turkey
Tel: +90 212 231 91 72
Opening daily from 09:00 till 24:00