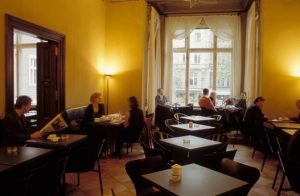 Café Wintergarten's charming atmosphere comes from the interesting interior décor, which successfully combines the historic ambience of the century old villa with modern facilities. The beautiful Wilhelminian style villa was built as a residential house in 1889 before becoming a military hospital during the WWI. Following that, it housed a soup kitchen, a site for foreign students, a café, a brothel and a disco. In 1986 it became one of the famous literature houses of Berlin. This literature houses focus on hosting literary events that range from readings to symposiums, writing workshops and discussion forums. You'll come across every genre of literature being read at the Literaturhaus and enjoy browsing the bookshop. However, The Literaturhaus is famed for its café, The Wintergarten, as well as the literary events it hosts.  A testament to its popularity, it was very crowded when we visited.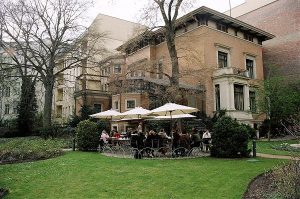 There is a garden and a conservatory, which would definitely be lovely in warm weather but it was very cold when we visited, so we were seated in the indoor area.
They serve breakfast and freshly prepared bistro food for lunch and dinner. Their menu includes vegetarian meals, cold appetizers, cheese, wine and of course a variety of beers. The desserts were delicious! Highly recommended.
Review by Nazlıhan Wintermeyer
Address: Fasanenstrasse 23, Charlottenburg 10719, Berlin, Germany.
Tel: 030 882 54 14
Open daily from 9.00 am to 24.00