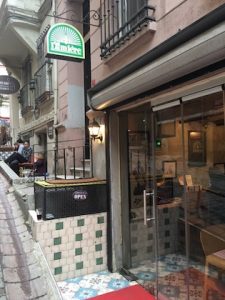 Almost hidden on a narrow, cobbled street in Cihangir, Café Lumiere looks like a small coffee shop from outside. A pleasant surprise awaits you though, once you pass through the unassuming narrow door and enter the café through the small front room: A large back garden, reminiscent of old traditional tea gardens with wooden chairs and tables, lamps hanging from trees and small potted plants on tables. Complete with its resident cat!
Reflecting the owner Özcan Taş's love for cinema, Café Lumiere was named after the (Louis & Auguste) Lumiere Brothers, who made the first motion picture in 1895 filming the workers leaving the Lumiere factory. They directed and produced the first publicly screened motion picture ('Train Pulling into A Station') too. The screening of this black and white, 1 minute long silent documentary in 1897 was the first public film show in Turkey . In keeping with this spirit, one can notice cinematic references everywhere, from posters to menus on the tables.
Besides being a cinema enthusiast, Özcan Taş is an avid collector of old books. He proudly showed us some first editions at his book filled desk in the small front room. He sends some of these old books to children's wards in hospitals where children have to stay for long term treatments.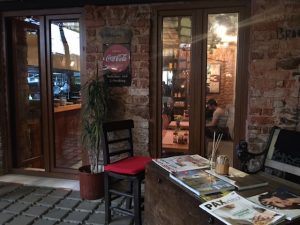 At the time of our visit they were planning to organise cinema and literature events, such as film screenings, book introductions and readings that would bring authors and readers together. A library, where one can take a book to read in the garden or on the first floor lounge was planned too. This was planned to be an open library where you'd leave the book behind after registering the page you were at, so you could continue next time you visit Café Lumiere's library.
Café Lumiere's wishes to be a restaurant/café where people can feel at home, spend time reading, studying, working, socialising and attending various events in a warm, welcoming and laid back atmosphere.
Despite being a relatively recent addition to Istanbul's themed coffee shops and still in the process of being re-designed and organised, Café Lumiere seems to have captured this spirit already. There were quite a few people who were studying, working and socialising in the friendly and tranquil back garden when we visited the café.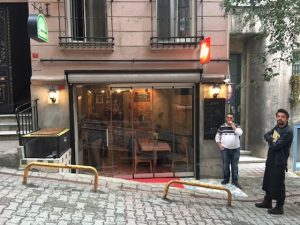 Café Lumiere offers an extensive selection of food from both local and international cuisine and a variety of teas, coffees, freshly prepared juices and drinks. Although we had only time for a nicely prepared and presented cup of tea and ayran (traditional cold drink prepared with yoghurt), their assuring confidence about serving good quality and reasonably priced food definitely tempted us to go there again for a breakfast or lunch.
Go there to sample their extensive menu whilst working, studying, reading or socialising. You will be treated like a family friend.
Adress: Café Lumiere, Kuloğlu Mahallesi, Altıpatlar Sokak, No 7, Cihangir, İstanbul
Tel: 0212 244 12 67
Open daily from 08:00 to 23:00