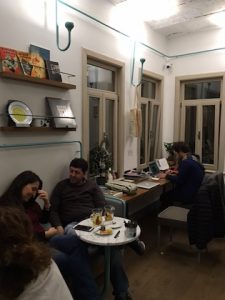 Café Fil (Fil means Elephant in Turkish) is in Tophane – Karaköy triangle, Istanbul's coolest new hotspot. Once a thriving port, this large part of the inner city area declined in the 20th century and became a decrepit place of elegant 19th century buildings, which were abandoned or divided into small commercial offices or hardware shops. This fascinating area, a testament to Istanbul's cosmopolitan nature with a sixteenth century mosque and hamam (public bath) as well as Armenian and Greek churches, is now on the map! The area's revival can be traced back to the opening of the Istanbul Modern Museum (Istanbul's own Tate Modern) in 2004. Since then, Tophane, has first become a popular student and tourist hangout and recently with the latest rush of hoteliers, artists and restaurateurs, it has been transformed into one of Istanbul's most trendy and bohemian neigbourhoods, where hardware stores and run down streets blend with chic and stylish restaurants, cafes, boutiques and galleries, creating a dynamic and gritty urban hub.
Following the recent trend, Café Fil is not just a café but offers a concept, which can be described as 'book and art friendly multi-function space', where you can have a cup of coffee and a bite, buy books or originally designed gifts, attend chats with artists or other art related workshops and activities.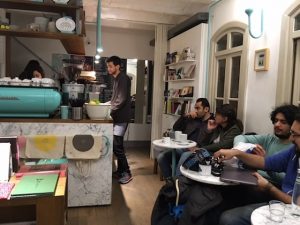 The seating area consists of two small rooms, on the ground and first floors and there is outside seating too. Although limited in number, there are art books, especially on history and theory of photography on display, as well as some children's books and original knick-knacks. Their Facebook page announces the hosted events and activities.
The seating is limited.  It was a rainy and cold evening when we passed by and the café was completely full, so we didn't get a chance to sit and taste their food or drinks. However, the menu looked quite extensive with a selection of sandwiches, quiches, croissants, cakes and cookies. Upon entry we were surrounded by the wonderful aroma of recently brewed coffee and freshly baked cakes, which looked extremely seductive!
We will definitely visit Café Fil again to hear the story behind their name and signature colour – turquoise.
There is a lot to see/visit in Tophane, so why not to spare an afternoon? Pass by Café Fil for breakfast or a delicious cup of afternoon coffee and cake, check out the books they display. Once there you might simply browse around the streets or see the excellent selection of modern Turkish art in the nearby Istanbul Modern Museum's permanent collection and check out their latest exhibits too.
Address: Kemankeş Karamustafa Paşa Mahallesi, Ali Paşa Değirmeni Sokak, No:1 34425 Beyoğlu, İstanbul
Tel: +90 212 243 1994