Zekeriyaköy (köy means village in Turkish) is an effluent suburb on the European side of Istanbul. It is one of the few areas, which can still offer a relatively quiet village life despite its close location to the city's main finance and business centres of Maslak and Levent.
Antilop Cafe and Brasserie, located at the centre of Zekeriyaköy, is a well known neigbourhood destination. They describe themselves a combination of a bookstore, cafe and a brasserie and true to this claim, as soon as you enter the place you can feel the energy of the books that are everywhere.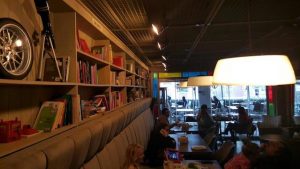 The  atmosphere is very cozy, coffee is good, the menu is extensive and the place is very child friendly with a menu and play area dedicated to children. We liked their lemonade and salads very much.
This is not a destination you can hop in and out easily as you'll need a car to go to Zekeriyaköy but if you happen to be visiting the area or just passing by, do go in for a coffee break or a meal to have a tranquil moment and of course enjoy the books!
Review by Emel Bilal
Address: Zekeriyaköy Mah. 5. Cad. Garanti Koza Çarşı 1. Blok No:6 Sarıyer, İstanbul
Phone: +90 212 202 9575
Closed on Sundays and Mondays. Open other days from 12:00 till 22:00