Once a melting pot of diverse cultures of Jewish, Greek, Armenian, Christian and Muslim peoples of the Ottoman empire, Balat and Fener neigbourhoods of Istanbul have largely lost their multi-cultural character during the 20th century and found themselves amongst Istanbul's poorer areas. Stretching along the west bank of the Golden Horn, a short bus ride from Taksim Square and Galata and only half-hour walk away from the buzzing Spice Bazar in Eminonu the area has a lot to offer to the discerning eye. The history of Istanbul over the past two millennia is presented ingloriously here and reveals itself through churches, synagogues, public baths, authentic markets and narrow and steep cobblestone streets that run between decaying buildings. Although still poor and run down at large, there has been a recent interest in the area. Some old houses had been renovated to house artisan ateliers, design and architecture offices, boutique shops, small restaurants and cafes, which attracted an increasing number of tourists and locals to the area.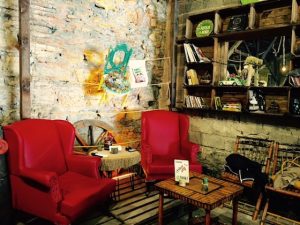 Atölye Kafası 'Hangar' is one of those new cafes, a surprising place, which doesn't reveal itself at a first glance. From outside and even as you step in, it looks like an artisans' workshop with a large display area filled with wooden, hand-made items ranging from furniture to baskets to spoons and coasters. It takes a while until you realize that you are in the middle of a café where you can sit around a hand-made wooden table to sip tea or find the reading corner, complete with large, comfortable chairs and bookshelves. Almost everything you see around is for sale, so if you get carried away, you might end up walking out with the table you sit around!
They have live music, film and stand-up shows at night. Although limited, their menu seemed to be sufficient for breakfast or afternoon tea with pastries, deserts and a variety of teas and coffees.
We were told the owners were two cousins, who wished to carry their family profession, joinery and wood decoration, to a new level.  It may not be terribly cozy but Hangar will keep you amused and interested! Worth a visit!
Address: Cibali, Kadir Has Cd. No:75, 34083 Fatih, İstanbul, Turkey
Phone: +90 212 528 0060
Open daily from 10:00 to 01:00
www.atolyekafasi.com