The Master of Petersburg – J. M. Coetzee – 1994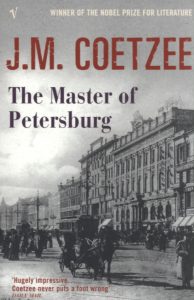 Posted by Steven on 20/7/2006, 22:50:35
I read J. M. Coetzee's short novel The Master of Petersburg to compare it with Summer in Baden Baden.
The story takes place in Petersburg in the autumn of 1869. All of the events are fictional, as are some of the characters.
The Plot: Dostoevsky's stepson, Pavel Isaev, has died of a fall under questionable circumstances. Dostoyevsky is currently living in Dresden with his second wife Anna (this is where he is at the beginning of Summer in Baden Baden as well). He has travelled in secret to Petersburg to visit his stepson's fresh grave and to try to understand, not only how Pavel died, but how he had lived in the time since they had parted in 1867.
The stepson was a real person, but he did not die in 1869, nor were he and Dostoevsky at all close. Instead, it is author Coetzee's 23-year-old son who has died. This is never alluded to in the novel, but knowing that the book is, in part, Coetzee's lament for his own son makes it painful at times to read.
As I noted earlier, some of the characters are fictional, but they are Dostoevsky's own – from a suppressed chapter of his novel The Possessed. But it takes some background reading to know this – Master of Petersburg is an entirely coherent and self-contained work.
In style, Master of Petersburg is straightforward, conventional, strictly chronological, and very easy to read – nothing like the experience of reading Summer in Baden Baden.
Compared to Summer, the themes in Master are more metaphysical and less psychological. There are elements of politics and sexuality. In Master we also are more aware that Dostoevsky is a writer, as the relationship between life and art is a significant element.
I like the two books equally and highly recommend them both, even though they are very different. Only one caveat: Master of Petersburg is a dark and somber story, not the sort of book to read when you're in need of cheering up.