Larry's Party – Carol Shields – 1997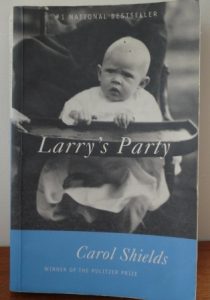 Reviewed by: Lale Eskicioglu          Date: 24 August 2001
Each chapter tells a certain time in Larry's life. Each chapter is independent of the others. Each chapter gives a summary of Larry's life up to that certain time. Thus, a lot of repetition. You might find this technique brilliant if you are prone to easily forget what you have just read.
Larry's life, to be perfectly honest with you, is boring. The good news is you can only read the last chapter (best chapter from an entertainment point of view) and it'll be as good as having read the whole book. Upon my advice, my husband read only the last chapter (the famous party, Larry's Party, takes place in the last chapter) and didn't see any disconnected story lines or missing information. A self-contained short story…
There are passages of wit, humour and stylish writing. When Larry and his girl friend are planning the dinner party, they have this exchange:
"…You can keep a dinner party under control."

"With small talk you mean?"

"Well," she said, shrugging, "thank heavens, I say, for small talk. Small talk's better than big talk. Big scary talk. Aesthetics, societal values. And people stabbing you to death by mentioning authors you've never heard of. Quoting from Kierkegaard. I mean!"
A few days later, during the party, one guest (which one we don't know) says out of the blue:
"If only we could live our lives backwards, taking advantage of our accumulated knowledge. Wasn't it Kierkegaard who said -?"
I guess it is an alright book, all things considered. If you are into hedges, you can learn a lot about them in this book.