The Glass Menagerie – Tennessee Williams – 1944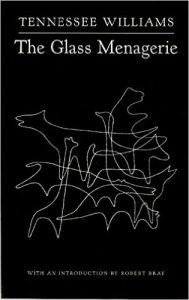 Reviewed by: Gretchen         Date: 6 January 2005
The story is dark and shows the all too real delusions that a human mind will conjure to insulate itself from the stark realities that might surround it.
In this place of bitterness and desperation, shadows are illuminated by the only fragile and transparant character in the story, Laura, who is the crippled daughter of an aging belle, Amanda. Amanda, reveling in her distant Southern past, pressures her only beleagered son Tom to bring home a suitor for Laura. He does so with surprising and tragic results.
In the story, we are told that Laura is the crippled family member. Her fragile nature is metaphorically reflected in the handicap she bears and in the delicately spun creations of glass she so dotes on. Her small confined world is the only pure one in the story, without guile and selfishness.
As the story unfolds, we see that, in fact, her mother and brother are truly the crippled ones, each limping on their own selfishness and anguish.
But as with all tragic stories that follow their course to a close, it is Laura who has her world shattered into thousands of pieces.
A tear jerker. Don't look for a good laugh with this one. It is William's dark child lifting the rock we call "the American dream" and showing what's underneath.