Nostromo – Joseph Conrad – 1904
Reviewed by: Guillermo Máynez Gil 
Sharing that characteristic with other authors such as Herman Melville, Conrad was a sailor who travelled around the world and had many adventures. He also learned a lot about other peoples and other nations, since he had an extraordinary gift for observation and analysis. That's why he was able to write this wonderful story about a fictional Latin American country, Costaguana, and more specifically about the Western province of Sulaco. The country seems to me a mix between Colombia and Mexico, and I think that Conrad made a great job of inventing a history, politics, economics and society of Costaguana (even the name is great).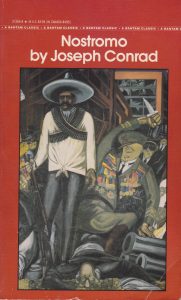 Now here's the basic plot: by the end of the XIX century, in the middle of political upheaval, something certainly not strange in Costaguana or any other part of Latin America, the Sulaco province is in great danger. It turns out that Sulaco is the richest province, thanks to a huge silver mine operated by a Costaguanese of British descent, Charles Gould. The silver coming from six months of work is at the port, but the rebel forces are approaching the town and it's urgent to find some scheme to save the silver from being seized by them. So the task is given upon Nostromo, an Italian man who is chief of workers at the port. He's handsome, brave and extremely proud of himself, and he has a reputation of honesty. So he goes to sea with the silver.
What follows is a magnificent tale of war, politics, intrigue, betrayal, lost love, hopeless love, as well as heroism and meannes found in unlikely places and unlikely people. It is great fun and very well written, and it's full of adventure and great characters. In fact, I think that character-development is the key to the book's success. It is amazing what this Ukrainian-born, Polish man, could do with the English language.