Neverwhere – Neil Gaiman – 1996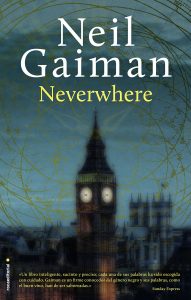 Posted by Andrew Scal on 3/11/2004, 19:42:08
Neverwhere turns out to be an adventure story with a great deal of imagination. It's not the sort of book I normally read, so getting this discussion off the ground may take some help.
It bears superficial resemblance to Jack Finney's Time After Time, in which the hero travels back in time to the very same physical location as he started from. In both cases our protagonists ultimately decided that the other world was the one in which they wanted to stay. Why do you think Richard decided to stay in London Below? Was it Door?
What did you like best about this story? Were you disappointed?
I liked the descriptions very much. The people and places, and actions. Neil Gaiman writes well and has the ability to make one gasp. When Richard replies to Anasthaesia that yes, he likes cats, she answers "Thighs, or breasts?"
I felt that the story opened up with a lot of promise, perhaps I was seduced by the excellent writing and the settings. The Market reminded me of that weird space Bar in the movie Star Wars (I only saw it once, 25 years ago, at gunpoint) For me, the story line could not keep up to the level of the writing. Continuously entertaining, yes, but leading to essentially a modified version of Star Wars. The plot was not worth the excellent writing.
I loved the scenes with the London Underground (I used to use a number of the stations mentioned, when I lived there) And the idea of "Below-er" being invisible was great. The scene where they arrived at the British Museum Station (which didn't exist until that moment) was quite imaginative.
Now, Neil Gaiman writes far better than I ever will be able to, so I'm just expressing my opinions here. Some things worth mentioning:
1. What was the purpose of Hunter? She didn't seem to add enough to the story or live up to her potential.
2. I don't know why, but that trick that Marquis de Carabas pulled with Portico reviving him was a little too much. Although he was one of the better characters, this was a hard turn of events to accept.
3. Door's talent's too, seemed to not quite live up to its potential.
Well, time for someone else's tuppence on the matter.
Andrew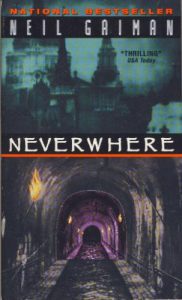 Posted by Lale on 5/11/2004, 8:57:30
It started well but couldn't keep up. As the adventures advanced the book went down the hill.
Initially, I was enjoying the witty descriptions but as soon as Richard met Door he became dumb and all the funny, cool writing dissappeared.
Richard's reactions to bizarre happenings were neither traditionally hysterical (like those of The Donkey from Shrek) nor originally cool and "with it" (like those of Han Solo from Star Wars). Richard was bland.
All in all, it was not my cup of tea.
Lale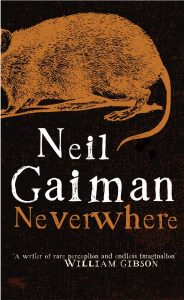 Reviewed by: Friederike Knabe Date: 4 December 2004
Everybody traveling in London by Tube, is familiar with the loudspeaker's warning "Mind the Gap", that is the space between platform and train carriage. Reading Gaiman, "gaps" take on a much more complex meaning… People can fall through the gaps/cracks, literally, not only down onto the rails but much deeper, ending up in "London Below". Richard Mayhew, a young man with nothing much happening in his life, is an unlikely Samaritan. Still, when confronted with a choice he follows his charitable instinct and assists a wounded rag girl he finds lying in the street. To save her from her apparent killers he goes on a quest and from this moment his life turns into a rollercoaster of discovery and danger.
"Neverwhere" is a brilliant yarn of life in the underbelly of the city, with shady human characters, speaking rats and special "guides". There is more than one reality for sure. In London Above, Richard and the rag girl, named appropriately "Door", can be seen but not recalled beyond the moment. The real-life maze of London underground tunnels, hidden passageways and dead ends provide the existent, yet twisted, backdrop to the story. Time and distances have no meaning. The names of tube stations acquire new relevance: the Earl resides at Earl's Court, the black Friar monks are in Blackfriars and Islington is an Angel. Following Door and her unusual companions, Richard discovers the limits of his endurance. He has to question his existence and reality. While his desire to get back to his normal life keeps him going, his chances to shake loose from the shadowy underworld increasingly appear to diminish…
The novel, which expands on Gaiman's successful tv production, is a fascinating read, whether you know London or not (yet). His style is fluid and engaging, his characters are very much alive and moving the various layers of intrigue along at a good pace. [Friederike Knabe]