Sentimental Journey – Laurence Sterne – 1768
Reviewed by: Michael Sympson        Date: 26 September 2001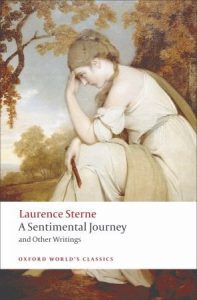 Travel, Love, and Charity
… When we had got to the door of the Remise, she withdrew her hand from across her forehead, and let me see the original – it was a face of about six and twenty – of a clear transparent brown, simply set off without rouge or powder–it was not critically handsome, but there was that in it, which, in the frame of mind I was in, attached me much more to it – it was interesting;
(hear, hear)
I fancied it wore the character of a widow'd look, and in that state of its declension, which had passed the two first paroxysms of sorrow, and was quietly beginning to reconcile itself to its loss – but a thousand other distresses might have traced the same lines;
(take note you vain creatures of Elizabeth Arden!)
… and in this disposition … , was I left alone with this lady with her hand in mine, and had held it so long, that it would have been indecent to have let it go, without first pressing it to my lips:
(and now he talks himself into it)
This certainly, fair lady! said I, raising her hand up a little lightly as I began, must be one of Fortune's whimsical doings: to take two utter strangers by their hands – of different sexes, and perhaps from different corners of the globe, and in one moment place them together in such a cordial situation as Friendship herself could scarce have achieved for them had she projected it for a month –

And your reflection upon it, shows how much, Monsieur, she has embarrassed you by the adventure – When the situation is what we would wish, nothing is so ill-timed as to hint at the circumstances which make it so: you thank Fortune, continued she – you had reason – the heart knew it, and was satisfied; and who but an English philosopher would have sent notice of it to the brain to reverse the judgment? In saying this she disengaged her hand with a look which I thought a sufficient commentary upon the text.

It is a miserable picture which I am going to give of the weakness of my heart, by owning that it suffered a pain, which worthier occasions could not have inflicted – I was mortified with the loss of her hand, and the manner in which I had lost it carried neither oil nor wine to the wound: I never felt the pain of a sheepish inferiority so miserable in my life. [but] the triumphs of a true feminine heart are short upon the discomfitures. In a very few seconds she laid her hand upon the cuff of my coat, in order to finish her reply; so some way or other, God knows how, I regained my situation.

I forthwith began to model a different conversation for the lady, thinking from the spirit as well as moral of this, that I had been mistaken in her character; but upon turning her face towards me, the spirit which had animated the reply was fled – the muscles relaxed, and I beheld the same unprotected look of distress which had first won me to her interest – melancholy! to see such sprightliness the prey of sorrow – I pitied her from my soul; and though it may seem ridiculous enough to a torpid heart – I could have taken her into my arms, and cherished her, though it was in the open street, without blushing.
(you dirty old man -)
The pulsations of the arteries along my fingers pressing across her's, told her what was passing within me: she looked down – a silence of some moments followed. 'There wants nothing, said I, to make it so, but the comic use which the gallantry of a Frenchman would put it to – to make love the first moment, and an offer of his person the second.It is supposed so at least – and how it has come to pass, continued I, I know not: but they have certainly got the credit of understanding more of love, and making it better than any other nation upon earth; but for my own part, I think them arrant bunglers, and in truth the worst set of marksmen that ever tried Cupid's patience. – To think of making love by sentiments! I should as soon think of making a genteel suit of cloaths out of remnants: – and to do it – pop – at first sight by declaration – is submitting the offer and themselves with it, to be sifted with all their pours and contres, by an unheated mind.

The lady attended as if she expected I should go on. 'Consider then, madam,' continued I, laying my hand upon hers – 'that grave people hate Love for the name's sake – that selfish people hate it for their own – hypocrites for heaven's – and that all of us, both old and young, being ten times worse frighten'd than hurt by the very report – what a want of knowledge in this branch of commerce a man betrays, who ever lets the word come out of his lips, till an hour or two at least after the time, that his silence upon it becomes tormenting. A course of small, quiet attentions, not so pointed as to alarm – nor so vague as to be misunderstood – with now and then a look of kindness, and little or nothing said upon it – leaves nature for your mistress, and she fashions it to her mind …

Then I solemnly declare, said the lady, blushing – you have been making love to me all this while.
Here is a true writer! All he needs is two strangers of opposite sex and a locked door to which the key is missing, and the scene is ready. No special effects, no stage props, just the magic of the word and a fertile imagination. I don't know about you people, the man is something else. I would give him six stars.