Manon Lescaut – Abbé Prévost – 1731
Reviewed by: Lale       Date: 23 September 2001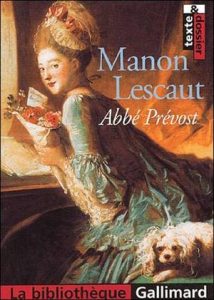 My good friend Christopher was very surprised to find out that I hadn't liked Manon Lescaut. He said that it was "like champagne on paper". Well, maybe my good friend Christopher should write his own review. I did not see or taste any champagne.
I saw references to Manon Lescaut in Stendhal's The Red and the Black and in Alexandre Dumas Fils' La Dame aux Camélias. Also, I am aware of the movies and operas based on Manon Lescaut. So, one almost feels obliged to find out what the big fuss is all about.
The fuss is about a stupid man and a flighty woman. The woman is addicted to luxury, the man cannot afford enough of it, so they take the nefarious road.
We have all heard of people (or even know one or two personally) who are blinded, muted, deafened and stupefied by their love for another person, a femme fatale or an homme fatal. In Manon Lescaut we have a particularly witless man, so much so that it is unrealistic. Therefore, it doesn't make a good story.
However, I should also mention that, my good friend Christopher has read this book in its original French. I read it in English translation. Maybe the champagne got flat during the translation.