The Temptation of Eileen Hughes – Brian Moore – 1981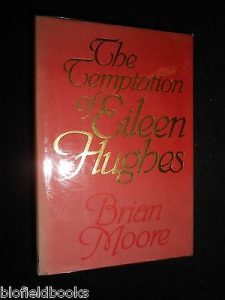 Reviewed by: Dave Cymbalisty         Date: 11 November 2001
I love how Moore flings us headlong into the abrupt mid-action opening sentences of this story… "What do you mean there's no room for her?" Bernard said. "Didn't you get my letter?"
It's like that old television quip: "We now return you to programming already in progress…" The opening scene here is the front desk of a prestigious London hotel, within sight of Buckingham Palace. 34 year old Ulster businessman Bernard McAuley is straightening out what seems to be a screw-up in the reservations. Eileen Hughes, twenty years old and never before out of Northern Ireland, has just arrived with Bernard and his wife Mona, who are not only her employers but also, (she believes) her greatest friends. They've invited her on one of their jaunts. The worldly-wise Mona seems to have adopted the virginal-innocent Eileen as her special pet. Bernard is obsessed (in opposite ways) with BOTH of them… and for the time being, Eileen is completely unaware of the extent of Bernard's posessive love of her – expressed in his wish to give her everything she desires. She will not be unaware for long. Bernard soon goes against his better judgment and confesses that he wishes to posess her as one would posess a religious icon or aesthetic artefact.
The action of the book is compressed into two days (with an introductory day and a few brief scenes on later days) and during this time Bernard's excessive (and oddly platonic, or as Bernard refers to it "courtly") devotion to Eileen leads her to a sharp recognition of the madness in which she is trapped… and leads Bernard to drunken, suicidal despair. And what of Mona? Goodness… she's too busy shopping and courting her own lovers to be concerned with either of them!
Eileen discovers that nothing between the McAuleys, or between the McAuley's and herself, is as she imagined it to be. She is tempted… in many ways, and in many directions in the course of this vacation. She is bombarded with new experiences… including the initiation into marijuana and sex by a casual American stud/hippie whom she meets in the hotel.
What will she choose in regard to her temptations? The intoxicating adventure and glamour represented by European cities… held out to her on a platter by Bernard? Or a return to her dreary life in Lismore, Northern Ireland where she lives with her widowed invalid mother? How will her decisions affect her, and the other people involved?
A great story, economically told. (only 200 pages). Ends before you want it to.