The Statement – Brian Moore – 1995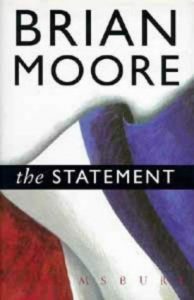 Reviewed by: D.W. Cymbalisty         Date: 21 August 2001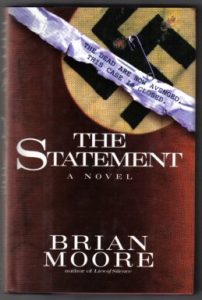 The setting is southern France, 1989. Pierre Brossard is a man on the run for his life. For over 40 years he has been in hiding, counting on the complicity of the Catholic Church to perpetuate his anonymity. During WWII, Brossard was a member of the "milice" and as part of his duties at the time he personally shot 14 Jews in a clandestine pogrom and subsequently co-operated in the sending of many Jews from France to extermination camps. Through his many connections, Brossard managed at one point to obtain an official pardon for his war-crimes, but now (in 1989) the charge of "crimes against humanity" has been added… with the result that even some of his strongest supporters have turned against him. There is a renewed interest in his case, he's running out of places to hide… and he has more pursuers than ever before.
The Statement is an excellent meditation on the historical processes and conditions that make war crimes or crimes against humanity so difficult to pursue. Brossard is demonstrative of the expertise with which such "criminals" are able to exploit various forces of compromise, immunity, asylum and refuge. Many questions are subtly raised by this book. The Church here affords a sort of refuge to the retributive justice that the outside world demands (concerning Brossard's obvious past crimes/sins)… but what of Brossard's inner torment? Even if the Church offers (grants) Divine pardon, does the pardon of man/society follow? Should it? (I hope not). What do we make of priestly absolution when it proves ineffective as conscience-cleanser? Is this the question being answered when, with his final breath, Brossard tries to be penitent and sense God's pardon, and all he is afforded is a final look (in his mind's eye) at the people that he has killed?
It is a story told by a genius writer. The short quick chapters make you quickly forget whatever else you had to do today… you won't stop flipping the pages till you're done. He changes the "I" of his narrator constantly, and yet never loses the reader for a moment. I've read almost all of his many books and consider this among his very best. This is a book that had significant meaning for the author (a sort of purging of his own shame at his father's conservative Catholic belief and initial support of totalitarianism during WWII). Moore commented concerning The Statement that "I never thought that novels changed the world. I still don't believe that. But I just thought that this was a story which really should come out." It should.