The Lonely Passion of Judith Hearne – Brian Moore – 1955
Reviewed by: Dave         Date: 20 February 2002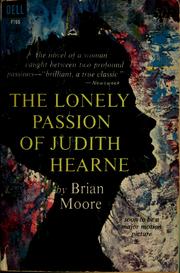 After cranking out a string of pot-boiler thrillers, Judith Hearne was Moore's debut venture into the world of the serious novel. Here he sought to depict the epic, cosmic conflicts that are under the surface of the most seemingly ordinary of lives. He set it squarely in 1950's Belfast, where he was raised as one of the Catholic minority. He hated Belfast, calling it a "claustrophobic, provincial backwater… trapped in the nightmare of history" and plagued equally with Protestant self-righteousness and Catholic repressiveness. All of these sentiments find their way into this, his first literary novel.
Judith, convent-raised, unmarried, and forty-something moves into Mrs. Rice's boarding house on Camden Street. It is her sixth relocation in the last few years. We find out WHY later. She teaches piano and embroidery to an ever diminishing handful of students, has very few possessions, and fewer social attachments. In fact, her only social involvement is tea with the O'Neill family on Sunday afternoons. Only later do we find how one-sided even this relationship is. The O'Neill's secretly dread her visits.
We are soon to sense the brooding cloud of narrowness, plainness, loneliness, and ignorance that hovers over this poor soul. Moore captures it. Even her physical frame, he says, is "plain as a cheap clothes rack."
To sustain herself she lives in a world of religious faith and imagination… or illusion. She daydreams, and surrounds herself with iconic totems from her uneventful past. And she has a secret vice that isn't revealed until almost midway in the novel.
The novel revolves around Judith's interactions with the many other residents of Mrs. Rice's home. Because of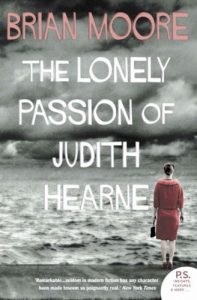 Judith's long repressed desires and vivid imagination, she is quick to assume that Mr. Madden's attentions will lead to a splendid marriage. But in their mutually illusive worlds they are both nursing dissimilar motives as regards each other. And meanwhile, Judith is being horribly set up for a total spiritual/emotional breakdown by a certain nefarious Iago-like presence in the home. As a result of her mounting disappointments she questions (abandons?) her religious faith, and is led in increasing measure to wallow in her secret vice… the real "passion" of Judith Hearne. And it is indeed, partaken in abject loneliness. Even the Church, represented by the tactless Father Quigley, rejects her cry for help. He heaps penitence and guilt where forgiveness and grace are needed.
This novel is brilliant in its portrayal of a woman at the very outer limits of disillusionment. Trapped by the passage of time. In the end, she looks in the mirror and smiles a costly smile. It has cost her the illusion, the pretence, and the ill-founded faith of all her years.