The Lady of the Camellias – Alexandre Dumas Fils – 1848
Reviewed by: Yin Zhou        Date: 14 September 2001
I read Dumas' La Dame aux Camelias this summer, and I dare say it is the most heart-warming yet tear-catching love story ever. It stroked my heart when I was reading the scene where Armand cried at the sight of Marguerite coughing blood. No man could ever be that sensitive and naive. And Marguerite, who sacrified her life (as Armand's love meant life to her) and her own happiness for him, has an admirable and sophisticated spirit. This love tragedy is even greater and more beautiful than Romeo and Juliet. Not many love stories are about a young noble man in love with a courtesy, not a maiden. La Dame aux Camelias also reflects the corruption of the French society in 1800s. Anyway, the novel brings out my tears and sentiments every time I read it. It is a great work.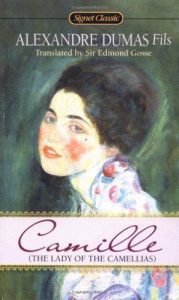 Reviewed by: Lale        Date: 12 May 2001
I have, I believe, the best edition of La Dame aux Camélias : The World's Classics (Oxford), translated and introduced by David Coward, 1986. I don't know if it is still in print, I bought it at a second hand book store. David Coward's notes might be actually more interesting than the book itself. The introduction, the chronology of Dumas Fils and the explanatory notes are full of information on lives of Dumas Fils and Marie Duplessis (née Alphonsine Plessis) who are the real life counterparts of Armand Duval and Marguerite, respectively. This is what David Coward says in his introduction:
La Dame aux Camélias has never been a novel for which persons of taste and discernment have been able to confess outright enthusiasm. When it appeared in 1848, stern judges declared its subject to be indelicate. Nowadays the blushes spring from a reluctance to admit openly that a four-hankie novel can claim to be literature or even have a serious call on our attention. By any standards, it is not a particularly good book: at most, it falls into G.K. Chesterton's category of `good bad books'… [Dumas Fils] wrote better novels and more significant plays, but he wrote them with his head. La Dame aux Camélias is a young man's book, and it has all the faults and virtues of youth. It was a romantic indiscretion for which Dumas was never moved to apologize.
Real life of Marie Duplessis is far more interesting than her life as Marguerite on pages. She was Dumas' mistress for eleven months, between September 1844 and August 1845. After they broke up, she met Liszt and they fell in love with one another. 'She was the most absolute incarnation of Woman who has never existed' he wrote afterwards. Liszt, and not Dumas, appears to have been the only man Marie Duplessis genuinely loved.
Marie Duplessis (Alphonsine Plessis) was born in 1824. Her father started offering her to men by the time she was twelve. By sixteen she was one of the most celebrated courtesans of her day. Also at sixteen she learned to read and write and by the time of her death in 1847, at the age of twenty-three, she owned 200 books, Manon Lescaut amongst them, which Dumas uses to start his story with.
David Coward connects the fiction to the facts with scrupulous footnotes. If you can find it, read his rendition. If you can't find it, then read whatever version you can find, it is a good story. After all, who wouldn't want to read the story of the woman who is the heroine of Verdi's La Traviata? I only wish Armand Duval didn't cry so much.
I give this book 4 stars, I took one away for the four-hankie effect.