Reviewed by: Lale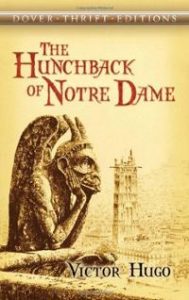 Notre-dame of Paris is a majestic structure, beautifully decorated in minute detail, constructed on Ile de la Cité, the little island on Seine, where first Paris had been founded. Someone had to write a novel with Notre-Dame as its centre-piece and Victor Hugo did. It is a very captivating story, although I am holding back one star because at times Hugo diverges from the story-line so much that he doesn't know how to get back. The alchemist sub-plot goes nowhere, and the reader wishes that it would, seeing how much is invested in it.
There are extra 3 chapters that have nothing to do with the story. These consecutive chapters (book four, chapter six; book five, chapters one and two), were not in the original print and they were added later on. Hugo claims that they have been misplaced during the first print and by the time of the second print they were found and therefore put into their rightful places. Hard to believe. If Hugo indeed had those chapters in his original manuscript, then he is guilty of writing a disconnected story. The characters in those chapters appear out of the blue and never reappear again. Without those 3 chapters, not only the story loses nothing but even flows better.
Hugo, at times can't help giving encyclopedic information on the architecture of Notre-Dame and that is only because of his great love for this great creation. If you are a little interested in history and architectural styles, you can breeze through those parts.
So, yes, it is a must-read book and I give it 4 stars.
The Hunchback of Notre Dame – Victor Hugo – 1831