The Hobbit – J.R.R. Tolkien – 1937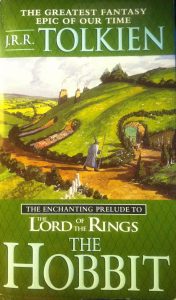 Reviewed by: D.W. Cymbalisty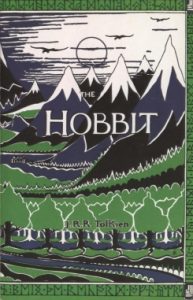 Well, this is one of my favorite books ever, and that is why I've read it over and over so many times. To say that it is "just for kids" is like saying ice cream or watermelon is just for kids. Blasphemy! Granted, it is true that Tolkien intended his story for young readers to enjoy, as is evident in the fact that hardly a page goes by in which the narrator does not address the children in the first person singular, but the story is never "childish" (in my opinion). Any adult reading this story will sense the exhilaration of youthfulness, and any child reading it will feel elevated to being at one level with the (adult) narrator. I think it is significant that Tolkien makes the hobbits beardless and "shy of the Big People" and their stature to be "about half our height, and smaller than the bearded dwarves." They tend to "disappear quietly and quickly when large and stupid folk like you and me come blundering along, making a noise like elephants which they can hear a mile off." The misgivings that Bilbo has as he is whisked away on this adventure, are the misgivings that any child would have… and the fact that he overcomes those fears, learns to live with a determined initiative, becomes a true leader, and emerges a hero in the end is a great lesson for young and old alike.
The Hobbit is self-contained, and essentially independant of the three-volume Lord Of The Rings, which, in my opinion is a far more graver quest… perhaps less accessible to the younger reader. It is not necessary to read The Hobbit in order to understand The Lord Of The Rings, but I recommend doing so, as The Hobbit does serve as a quarry of important themes for the larger work.
The Hobbit reminds me of something C.S. Lewis (a friend of Tolkien's) once said of children's literature: "No book is really worth reading at the age of ten which is not equally (and often far more) worth reading at the age of fifty…" The Hobbit surely fulfills that sentiment, and so I believe that you will be smiling at the end of this great book regardless of whether, in doing so, you're displaying baby teeth or dentures at the time. Get it. Read it. Before you grow up or die.