The Great Victorian Collection – Brian Moore – 1975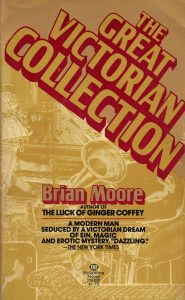 Reviewed by: Dave         Date: 20 January 2003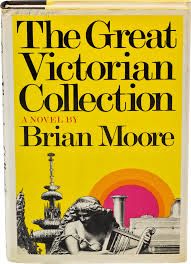 This book is a dream come true… Literally!
 Anthony Maloney is assistant professor of history at McGill University. At twenty-nine years old he is already a specialist on everything Victorian. If there's anything to know about the Victorian era, Anthony knows it.
 While attending a series of seminars in California, he decides to indulge in a few days of rest and relaxation before heading home to Montreal. One night, alone in his hotel room, Anthony has a profound dream about London England…
 He suddenly awakes and when he looks out his window, finds that down below on the huge hotel parking lot, a complete exhibition of Victorian culture has appeared overnight.
 He climbs out of the window and wanders among the endless aisles of Victoriana and is soon met by a man asking "Are you in charge of this?"
Without understanding why… he replies "Yes" and from that moment when Anthony claims ownership of The Great Victorian Collection, he will never be the same.
What follows is a truly realistic treatment of what would happen to someone who found themselves in this truly unrealistic situation.
A bewildered Anthony tries to process the fact that his "dream" brought this spectacle into existence, while everyone from the hotel manager, the law enforcement agencies, the press, television media, the surrounding community… descend upon him for an explanation of how he has done such a thing.
We're not talking about a few doilies and candle-snuffers here! There are gigantic working fountains… a locomotive… entire buildings that were not there the night before! Previously unknown collections within the collection… rolltop desks with handwritten letters locked within!
Of course, he does not have an answer. He only knows it's there. Everyone sees it. And he's responsible for it.
This collection consists of vivid replicas of existing Victoriana, and experts are called in to vouch for its authenticity. Most find that the stuff is so "good" that it is indistinguishable from the originals which are still located in their respective museums and locales around the world.
There seems to be no other explanation for how such a monstrous display has appeared here in Carmel-By-The-Sea (overnight, no less) than to conclude that Maloney DID in fact "dream" it into existence.
As such, he becomes a worldwide celebrity.
Many people believe his story, and many do not. The plot revolves around the way these supporters and detractors affect Maloney's psyche. It appears as though the previously unextraordinary and perfectly normal professor is now on the verge of going completely bonkers. And who can blame him?
The problem becomes the uncertainty that surrounds the perpetuity of the Collection. Will it slowly fade? Will it disappear overnight, as quickly, and inexplicably as it appeared? Is Maloney responsible (though his continued dreaming) to keep it in existence?
And what should be done with it if it does last forever? Should it become a Disneyland-like tourist attraction?
Maloney finds that if he tries to manipulate the Collection in his waking state, it begins to deteriorate. And the Collection becomes a nightmare to him. Can he turn over to the world what he has created? He attends to it with a jealous possessiveness, and finds that he cannot let go of it. Psychologically, the Collection imprisons him… creates unendurable insomnia, and other life-threatening perils.
Because of the initial scandal, and subsequent absence from the University, Maloney has long since lost his professorship… only to be offered it once again after he becomes an established celebrity.
Should he return to Montreal and try re-establish a somewhat normal life… or stay with the Collection?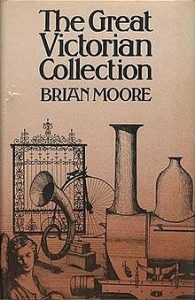 He is torn. His dream becomes a living nightmare.
There is so much more to the plot than I'm saying here in this review because I don't want to ruin anything for readers. There is the usual Moore romantic dalliance thrown in, and it's wonderful stuff.
The beauty of the book is the way Moore makes such an unrealistic situation seem like the most normal thing that could have happened. The way that Maloney and those around him react to the Collection seems very natural, very believable.
And all in all, the book reminds me why Moore is definitely one of my favorite writers of all time. This one is a real page-turner from start to finish.