Super-Cannes – J.G. Ballard – 2000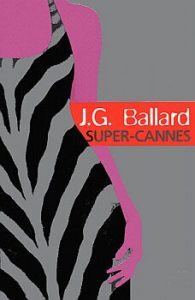 Reviewed by: Faik Genc 
Cocaine Nights & Super-Cannes. A New Novel?
J.G. Ballard is back with his usual brilliance, passion, extremes and cynicism in his 2000 novel "Super-Cannes" which the sceptics could call a re-write of his masterly written previous (1996) novel "Cocaine Nights".
This time, the setting is Cote d'Azure instead of Costa del Sol, and the mystery of the newly entered surroundings are almost similar for the Englishmen arriving at the scene. In Cocaine Nights, Ballard showed the "useful" side of violence and its revitalising influence on people who seem to think a peaceful, secure, rich and luxurious lifestyle is just what they need in retirement. Cocaine Nights was the story of violence and excess which began harmlessly with a string of car thefts and smash-ins. But Ballard never stops at that, things soon get out of hand. You will read this fantastic story by Britain's top living novelist and devour every page with a rising pulse.
In Super-Cannes however, Ballard tackles globalisation and the new corporate world's ruthless rule over the surrounding peoples and societies, its outbreaks of violence over ethnic communities and the obscenity of its perverse top directors and bureaucrats. At the French Riviera version of California's silicon valley (Super-Cannes) violence, racism and out of the ordinary sexual indulgence are already at gross proportions. The story unfolds as the middle aged husband (Paul Sinclair) of a young and pretty doctor (Jane) who is appointed to Eden-Olympia; high-tech business district with all the luxury, security and top directors; begins to investigate the mystery surrounding his wife's predecessor and ex-lover's (David Greenwood) mass killings and eventual suicide. As Paul follows the deceased doctor's (David Greenwood) footsteps to tragic end, he discovers the dark world lying beneath the gloss of Eden-Olympia. Alain and Simone Delages, a Belgian top executive and his bisexual wife are at the centre of perverse activities led by Eden-Olympia's resident psychiatrist Wilder Penrose, who is the brains behind acts of "psychopathy", a remedy to soothe the stresses of executive lifestyle. But then there is Frances Baring, a glamorously attractive woman in a sensual zebra-striped cocktail dress…
Super-Cannes is fantastic read but by and large lacks the surreal, shocking impact and originality of Cocaine Nights. Perhaps Ballard did not want to give a miss to the prospect of challenging globalisation using bits of his fantastic journey in Cocaine Nights.