Not Wanted on the Voyage – Timothy Findley – 1984
Reviewed by: Matthew Choina        Date: 14 November 2004
I was almost immediately hooked to this novel, after the first few pages, it was difficult for me to put it down. The intense description of settings and characters, was so well put, that it allowed the mind to simulate a very detailed representation of the different characters and settings that Findley introduced. Some tunnel vision or uncreative individuals may argue that some of the settings or aspects of the book were not well enough described, it may only be that Findley left it to the imagination to discover the many hidden secrets within this novel. It is, overall, a very well written book, a stew of mythological and biblical imagination, represented in a majestic way, and good enough to read twice.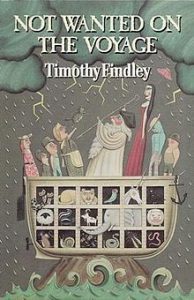 Reviewed by: Billy Bea             Date: 14 January 2004
I really disliked this book. I found it very hard to get into, and once I did start to read it, the pace, the characters, and the diction, all seemed to bother me. The first thing that struck me was that Finnley never sets the rules of his universe, so anything random can and will happen. Then I found that not much seems to happen for 10 pages, then lots will happen in 2. I found that some of the characters, like that of the cat, were more developed than others, yet played a small role in the outcome of the novel (she's in a coma for part of the book, which is contrary to her role as the "greek chorus"). Then came the diction. Many things that should have been left to the imagination were spelled out in graphic detail, which was not needed, and times when I would have liked more. The one good thing I do have to say, is that I did find the setting and the plot quite interesting.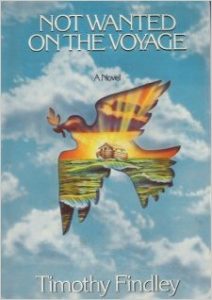 Reviewed by: Sir Readalot         Date: 4 November 2002
Forget everyting you learned about Noah and the Ark in Sunday school. Findley takes the story of Noah and puts a human face on this biblical tale. Noah is a grumpy, some times mean spirited idealogue. His long suffering wife and extended family are forced to chose sides when the rain starts falling. Ever wondered what became of the unicorn? Findley has the answers and more in this highly readable and absorbing novel.