Next Episode – Hubert Aquin – 1965
Reviewed by: Daniel Dufort      Date: 9 March 2005
"Cuba coule en flammes au milieu du lac Léman pendant que je descends au fond des choses."
This is the first sentence of this Hubert Aquin masterpiece. Aquin's rich prose and narrative prowess impressed the critics when this book came out in 1965, however, it seems that Aquin has been neglected by the public and Québec itself as if his troubling lucidity was hurting us too much. Just to give you an example of how neglected he is: I am currently in college, in Québec, and I have never heard a teacher pronounce his name when we were studying the history of Québec's literature.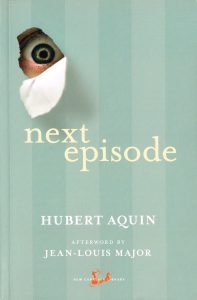 This novel isn't merely a thriller, it goes a lot deeper than that; Aquin writes about Quéébec, nationalism, revolution, love, failure, the act of writting itself and even, at some point, the prophetic and recurrent theme of Hubert Aquin: suicide. Aquin's lyrical prose and neologisms would make it hard for anybody to fully understand the book in one reading, let alone translating it in another language. Aquin's writting is definitely neobaroque and somewhat influenced by one of his favorite authors: James Joyce.
While this book is Hubert Aquin's most well-known book it is not, in my own opinion, his best book. Neige noire is even better and, from what I've heard, Trou de mémoire is also better than Prochain épisode, which speaks volumes about the quality of these books. Hubert Aquin is definitely one of Québec's literary best and, even though it might hurt some of us, his writtings are still relevant today.