Letters from My Windmill – Alphonse Daudet – 1869
Reviewed by: Duresa        Date: 8 November 2002
It is my favorite book. I used to read it when I was a child and I go back to it time after time. Every time I discover a new sound, a new 'paysage', a new feeling. Between the stories I prefer "Le portefeuille de Bixiou"; "Légende de l'homme à la cervelle d'or"; "Le poéte Mistral".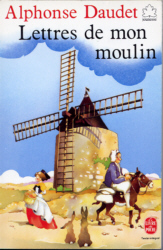 Reviewed by: Guillermo Máynez Gil 
This book was written by Daudet in a mill in Provence, Southern France, during a time he spent there. It seems to have been a pleasantly idle time. In his letters, which are somewhere in between poems in prose and short stories, he depicts the landscape, the dreamy warm evenings, the people and some feelings, anecdotes and remembrances of a quietly happy period.
It's recommended for an equally idle afternoon, preferably in the countryside. It's short and readable, even if it lacks a proper plot or much action.