Leaves of Grass – Walt Whitman – 1855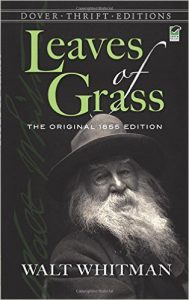 Reviewed by: Ted Mihran          Date: 21 October 2001
On the cover of my copy of Leaves of Grass is the subtitle "An Imperishable American Masterpiece." "Imperishable" is perhaps the best adjective to describe this amazing collection of verse, which surges with vitality and intimacy as one reads it. I have read and reread these verses for over fifty years and still they speak to me–eloquently, wisely, and deeply.
I open the pages at random—one can do that with this volume–and everywhere, wonderful words leap out at me:
"Dazzling and tremendous how quick the sun-rise would kill me,

If I could not now and always send sun-rise out of me…"

(Stanza 25, Song of Myself)
Again:
"Come said the Muse,

Sing me a song no poet yet has chanted,

Sing me the universal…"

(Birds of Passage)
Original, vital, sensitive, perceptive, accepting evil as well as good, Walt Whitman opens his world to us, inviting us to join him as companions on the open road. I find this man, who died more than a century ago, more vibrantly alive to me than most people I meet walking the world today.
In his remarkable book "The Creators" Daniel J. Boorstein writes that Whitman was contemned by D. H. Lawrence as "…empty Allness. An addled egg." (p. 773). Alas, it is a rare misjudgment by Boorstein, for Lawrence has a quick mind and tongue, and does often contradicts himself. But Whitman understands this trait:
"…Do I contradict myself.

Very well then I contradict myself,

(I am large, I contain multitudes.)"

(Stanza 51, Song of Myself)
Whitman is one with Lawrence's dynamic, searching approach to life and its values. And, to set the record straight, here is what Lawrence ultimately wrote of Whitman in his "Studies in Classic American Literature":
"…Whitman, the great poet, has meant so much to me. Whitman, the one man breaking a way ahead. Whitman, the one pioneer. And only Whitman. No English pioneers, no French. No European pioneer-poets. In Europe the would-be pioneers are mere innovators. The same in America. Ahead of Whitman, nothing. Ahead of all poets, pioneering into the wilderness of unopened life, Whitman. Beyond him, none…

"…the exultance of his message still remains…the exultant message of American Democracy, of souls in the Open Road, full of glad recognition, full of fierce readiness, full of joy of worship, when one soul sees a greater soul.

"The only riches, the great souls."
My life has been gloriously gladdened by these two great soul-mates who fling flaming torches of light into my jaded mind and curiously caress my blood with their joyous, life-opening messages.