Heart of Darkness – Joseph Conrad – 1899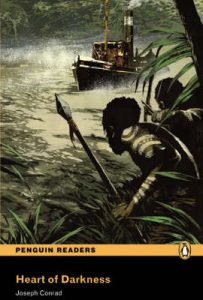 Reviewed by: Faik Genç        Date: 11 October 2004
A fantastic book by a great writer. So much can be described in so few number of pages, a very short book for a colossal story. One perhaps should draw attention to the Francis Ford Coppola's 1979 movie "Apocalypse Now" which was based on the novel. A very good but largely overrated film, in my opinion. Nevertheless Coppola captured some moments very well of Conrad's fantastic cruise in Heart of Darkness.
~
Reviewed by: Turhan Uludag         Date: 22 April 2004
This is the gloomiest book I have ever read in my life. It describes the journey of a young man, Marlow, to the the heart of darkness (referring to Africa), or perhaps to his own unconscious itself. And there, he sees the decadence of European, or rather Belgian, imperialism. The corruption of civilization is represented by the practices of one man, whom you don't really see him speak in the book, but instead the people talk about him because he has become a legend. This is Kurtz. If you want to know about the know political aims of countries and colonialism, this is a good book to read. I will be writing an essay on it soon, you can consult me anything you would like. I have read it twice and yet the books theme and its clarity still seems obsure to me. It's not a long book, only 100 pages. Try it!
~
Reviewed by: Hari Subhash       Date: 22 September 2003
Arguably one of the best books written by Conrad…
His style is enchanting and the way in which he lets the story unwind is really remarkable. His potrayal of the different characters within the story is excellent.
All in all it is a must read. A book that will leave an indelible mark on your mind.