Hard Times – Charles Dickens – 1854
Posted by Steven on 26/6/2013, 8:37:20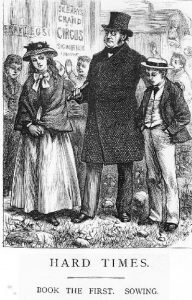 Hard Times is unlike Dickens's other novels in many respects. It is much shorter. It is the only one that doesn't use London as a setting. It is darker than most, with only a touch of humor here and there. And it promotes social reform, not by showing scenes of human misery, but by attacking the philosophical abstractions used to rationalize inequality and injustice.
The setting is the fictional northwest English mill city of Coketown. This may not have been intended to represent any place in particular, but it is very representative of Manchester. So it is especially interesting to compare Hard Times with Gaskell's Mary Barton which we read a few months ago and which was published six years earlier.
Dickens doesn't depict poverty, hunger and disease the way Gaskell does. There are complaints about working and living conditions, but few specifics. Most of the characters and scenes, in fact, come from the middle class. It is their hypocrisy and lack of humanity on which Dickens focuses.
Being accustomed to other Dickens novels, I kept expecting subplots to emerge that would involve some of the characters (Sissy Jupe in particular) in romantic relationships that would provide some balance to the overall tragic tone. Instead the novel moves quickly and directly along a straight course to an ending that provides truth but not happiness for the characters. I wonder if the author had larger intentions for the novel at some point.
Returning to the comparison with Mary Barton: both authors show strikes and other direct political action by the workers as a bad idea. Gaskell counsels them to pray their way out of poverty and await charity from above. In Hard Times, though, there is no mention of religion. Dickens's approach is to show the managing classes that their callous utilitarianism is as harmful to themselves as it is to others, and that a life devoted to material wealth only is a barren and lonely one (e.g. Scrooge).
~
Posted by guillermo maynez on 26/6/2013, 13:02:34, in reply to "Hard Times"
I finished it last night, and it was my second reading. I first read it when I was about 12, and all I remembered were the suffering of the Gradgrind children and the circus. All in all, it was like reading it again for the first time. In fact, it was my first complete Dickens book, and I became hooked for life. I may agree with those who say this isn't one of his masterpieces, but that is not much to say, since basically everything he wrote (at least what I've read so far) shares some outstanding features:
Above all: the characters. Dickens had an extraordinary talent to give even very minor characters distinctive physical and personality traits which made them hard to forget. Mr. Sleary's fixed eye and comic lisping remained in my mind all these years; the albino boy (Bitzer?) who catches Tom at the end; Bounderby's unbearable and horrible personality; Mrs. Sparsity's nose and brow; and so on.
Humor. No matter how sad the events depicted by Dickens, there is always a great sense of humor, a sarcastic tone that underscores how ridiculous we all can be.
Metaphor and language in general. Dickens's metaphors are striking, always to the point and original, be them melancholic or hilarious.
General relevance. "Hard Times" is undoubtedly a moralistic book, but somehow it's never pedantic or burdensome, and if in the mid-XIXth Century his message against materialism and despise for human cost was relevant, it is perhaps even more so today. I work for the industry and are convinced of the advantages of the free market system, but the humanities have a lot to teach us about values far superior to profit and power.
There are certainly many parallels between "Hard Times" and "Mary Barton", the latter being more pathetic and melodramatic, and more focused on the worker-owner struggle. Dickens, as you say, focuses more on the perverse ideology of pure materialism and personal advantage which, of course is counterproductive to real happiness in the end.
It was a very good experience to re-read this book, and a plus it offers is that the ending is not happy but very realistic. Dickens was no fairy tale writer, he was a sharp observer of human nature.
~
Posted by Joffre on 28/6/2013, 19:43:32, in reply to "Re: Hard Times (spoilers)"
I read Hard Times for the second time last year. It's probaby my second favorite of the Dickens I've read. I guess I would rate them: Bleak House, Hard Times, Great Expectations, Oliver Twist, and David Copperfield. I enjoyed all of them more or less.
I took some more or less banal notes while reading last year. Here are the ones I choose to share.
I found the school room in chapter 2 kafkaesque.
Wondered why Bounderby's house was described in such color.
Felt that one might complain that HT seemed to purposeful.
Wondered how Bounderby felt about his marriage, if he had no regrets. Then found a hint of his feelings on p.220.
Wondered why Louisa's flight was accompanied by a deluge.
Thought Rachel and Sissy finding Steven Blackpool was too much of a coincidence.
Thought of the Bacchantes.