Angela's Ashes – Frank McCourt – 1996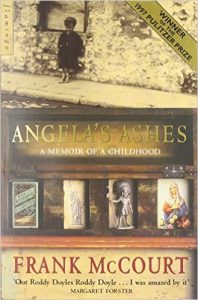 Reviewed by: Sarah     Date: 20 May 2003
 This book was amazing. It forced me to think upon what I have and be grateful for it. It uses fantastic imagery to pull you into the story and makes you understand the character's feelings.
 ~
Reviewed by: Dave        Date: 20 February 2002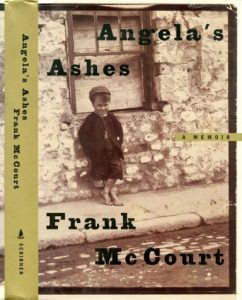 Charles Dickens once said, "In the little world in which children have their existence, whoever brings them up, there is nothing so finely perceived and so finely felt, as injustice. It may be only a small injustice the child can be exposed to; but the child is small; and its world is small." Angela's Ashes amounts to a brilliant recollection of childhood injustice which is indeed… LARGE! As I read the book, I was appalled at the depth of poverty that Frank McCourt and his family endured, and yet, I can't count the number of times I actually laughed out loud at the "way" in which the story is told. I've never read anything so simultaneously light and weighty. McCourt is witty, and is always in character, and that character is the child who was an eye-witness to every event. (An intriguing, fiercely narrative writing style is consistent throughout the book. ie., there are never any quotation marks).
The story is a powerfully moving disclosure of the perils of alcoholism. If it wasn't for the fact that Frank's father could not walk PAST a pub, the family would not have been so destitute. What little money Malachy McCourt earns is forever spent on alcohol, and the amazing thing is that it is spent shamelessly. Mother and children practically starve while dad staggers home in a drunken stupor night after night. Frank says of his father's false promises… "He'll give us a nickel for ice cream if we promise to die for Ireland and we promise but we never get the nickel." Injustice.
In my opinion, the redeeming majesty of this memoir is that through it we learn a wondrous fact… that shamelessness, irresponsibility, and stupidity do not necessarily have to be handed down to the next generation. Frank broke the mold, and chose self-awareness as his aspiration. I believe that the crucial turning point in his life came when, at the age of eleven he was convalescing at a hospital and came to the conclusion that "it's lovely to know the world can't interfere with the inside of your head." As readers of Angela's Ashes, we become the grateful recipients of this precocious revelation.
 Mr. McCourt has received much recognition for his book, and all of it is deserved. I have no idea what he has gained monetarily from its publication, but somehow I think it's a bit more than his aforesaid promised nickel. Way to go. You are an inspiration to the world.
~