Alias Grace – Margaret Atwood – 1996
Reviewed by: Steven Katona         Date: 12 February 2005
At my community college, my master's degree instructor picked this one for our 1st half of the Canadian Literature course. Atwood is a genius. This book combines a little known criminal case back in the way day of early Canadian dominionship and she cruises a really neat narrative as a poor Irish girl whose life is a mystery, that keeps the reader guessing right until the end! Seriously, how well do we really know anyone? Double personalities and early psycho-analysis through hypnotic quackery lead the reader to try to solve this crime. Right until the end, when the reader learns the truth, then has to come to their own conclusions. Post-modern in design this narrative skips from plot to plot while following a timeline of past and present which combines to leave historical accuracies in no doubt! This is a historical fictional narrative which I believe could be made into a CBC "movie of the week" deal. ost-modern literature by Atwood. Another form of writing literature and it works. The historical quotes and songs add to the detail.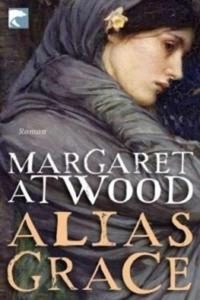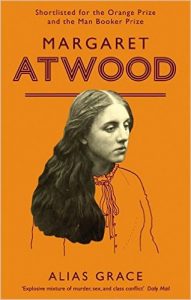 Reviewed by: Lale       Date: 12 July 2001
I read Alias Grace about five years ago when it first came out. It was the time when Alias Grace was all literary Canadians could talk about. And for good reason. It is one of the best books written in the 20th century.
Fiction based on fact, Alias Grace hooks you right at the beginning with excerpts of one or two real documents pertaining to a very bizarre crime/trial that had happened in 1853. From these real clips of newspapers and letters, we understand that Grace Marks, an all-work-maid of 15-16 years of age, is convicted for murdering his employer and his housekeeper and lover. James McDermott, the brute of whom Grace was said to be an accomplice of, is hanged for the murders. Grace escapes the goals because of her youth (and probably beauty too) and supposed weakness of the mind.
Then starts the smooth, sweet and sad narration of Grace. She had immigrated with her family from Ireland in one of those gruesome trips, on a ship packed sardine-tin style. Her accounts of the loss of her mother during the voyage and her efforts in trying to keep her siblings alive, is one of the best (and heartbreaking) examples of prose I have ever read.
As noted by the doctor who visits Grace in jail and listens to her story, "every piece of paper and every button is accounted for". She tells her life in minute (and probably unrealistic, but that's what makes it so charming) detail; everything is retold except for the time of the murders for which she claims not to have any recollection of.
Throughout the book, quilt patterns are weaved into the story, as Grace, with her tiny hands, sews the smallest stitches and creates the best quilts.
Every male character in the book has a name that starts with letter "J" (starting with the real life character James McDermott who was executed for the murders). In one of the rare happiest moments of her life, Grace and her best friend play a game with apple peels (which is an exception in itself, they hardly get to eat an apple). You are supposed to peel the apple in one continuous strip, and then throw the peel backwards over your head. The closest letter it will resemble on the floor, will be the first letter of the name of the man you are going to marry. Grace throws a "J".