Reviewed by: Eric Henderson    Date: 13 March 2002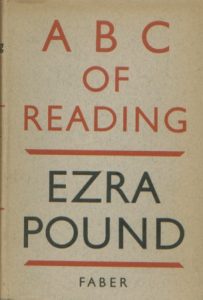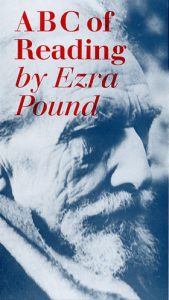 A five in my heart, but I know that is exactly my heart talking. Four allows me to disagree with my heart in trying to arrive at some objective review — that said, go get this book. Here's my opinion (excerpt from my amazon.com posting "Pound not dogmatic…"):
At the outset, it's important to note that Mr. Pound offers ABC of Reading as a "text-book that can also be read 'for pleasure as well as profit' by those no longer in school; by those who have not been to school; or by those who in their college days suffered those things which most of my own generation suffered".
We're all duly welcomed to Mr. Pound's class. However, once the door is shut, he throws harsh (and gut-bucket funny) criticism at snobbishness, poor preparation, and laziness — especially targeting the teacher who, by any of these vices, would lead any student away from the very personal road of discovery, i.e. away from critical thought that is no respecter of persons, even great persons. Too many jabs to count, but here are a couple of his friendliest (and well-placed) shots:
1. Anybody who is too lazy to master the comparatively small glossary necessary to understand Chaucer deserves to be shut out from the reading of good books for ever.
2. It would take a bile specialist to discover why the Oxford Book of Verses includes the first five strophes (of John Donne's "The Ecstasy") and then truncates the poem with no indication that anything has been omitted.
On this "no slackers" context he elaborates a simple core message: Look at a work for what it is and for what the author intends; then, learn by comparing it to worthy counterexamples. One example of Pound's guidance on this point: "The way to study Shakespeare is to study it side by side with something different and of equal extent. The proper antagonist is Dante who is of equal size and DIFFERENT. …You can't judge any chemical's reaction merely by putting it with more of itself."
Pound also dares you to either study languages or remain ignorant to the weight of timeless literature. "There is no use…in my publisher asking me to make English literature as prominent as possible. I mean, not if I am to play fair with the student. You cannot learn to write by reading English." (Also, Read p. 35, par. 2 for the MOST telling and eloquent statement on this fact.)
In sum, Mr. Pound is far from dogmatic. No man who issues a fair challenge can be considered so. He told you as much: "My lists (of poems) are a starting-point and a challenge. This challenge has been open for a number of years and no one has yet taken it up. There have been general complaints, but no one has offered a rival list." Calling him dogmatic thus becomes a wimp-out on an invitation to hard study and thought.
That said, it should not be lost on anyone that Pound's invitation is nearly the equivalent of the boxing critic being challenged to a round by Muhammad Ali in his prime.
Nevertheless, as students of literature and life, we should be willing to run Pound's gauntlet long before offering up any dogma on Pound himself or the work in question. Our only recourse, though, is it's own reward since we are free to fearlessly question even Mr. Pound along the way.
As a bonus, I believe any reader will gain even more by taking up the opening invitation to read the book "for pleasure as well as for profit". Do this times over and with a lens much wider than the literary. ABC of Reading then reads as a solid treatise on living and learning.