A Student of Weather – Elizabeth Hay – 2000
Reviewed by: Stephen A. Haines     Date: 4 March 2004
Seasons of discontent
It's an interesting experience to encounter a book in which none of the major figures is likeable. Yet, that very circumstance is a tribute to Elizabeth Hay's eloquent portrayal of two sisters in drought-ridden central Canada. Her people are deep and complex, intensely drawn and immensely real. Even the peripheral characters ring true, without the blemish of contrivance. Hay's descriptive ability in both urban and rural settings gives this book further enhancement. She vividly depicts the impact of environment on her chief protagonist, providing a framework for change of mood throughout the narrative. Hay, too, is clearly a student of weather. And a keen observer of people.
Norma Joyce Hardy initiates a life-long adoration of Maurice Dove with a touch on his cheek. That she's but a child is of little moment. That she's overshadowed by her sister's beauty becomes even less so. Even at nine years of age, she's driven by determination to find the means to supplant Lucinda. Resentful of her sister's looks, industry, and favoured place with their father, she becomes secretive, duplicitous, devious. Lucinda, having replaced their dead mother, is vulnerable, and Norma Joyce takes advantage of that exposure. Maurice becomes the tool for expressing Norma's envy, but she becomes the victim of her own machinations. Maurice, unsurprisingly, is following his own agenda, and Norma's place in it is problematic.
In pursuit of Maurice, Norma Joyce's life orbits like an erratic comet. From the most rural to the most urban environments in North America and back again, her loci remain vague. Only Maurice is a fixed point, but that seeming stability actually is the cause of her displacements. She is torn between seeking and avoiding him, particularly when the attainment of her goal leads to the inevitable result. Hay brings the Hardy family out of dry Saskatchewan to "golden" Ontario. Ottawa, however pleasant and green, fails to bring rest, and Norma pursues Maurice to New York City. A greater contrast to Prairie Canada can hardly be imagined, but Hay guides us through Norma's transition flawlessly. New York, however, doesn't resolve her situation with Maurice, which grows ever more complicated. Nor is the relationship of the sisters granted an easy path. Who carries the burden of Lucinda's fate will be the topic of endless debate.
Hay's account is admirable in its prowess in compelling attention to people and places. The factual nature of her characters, their failure to fulfill simple expectations is a credit to her skills. A love story of sorts, this is hardly a "romantic novel." It is a richly rewarding story, worthy of your attention.
[Stephen A. Haines – Ottawa, Canada]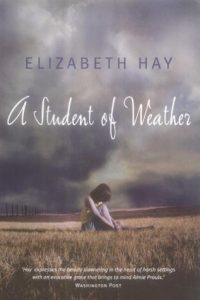 Posted by Lale on 2/4/2004, 14:18:04
I loved the book. I did not like Norma Joyce, though I tried. In fact, none of the characters were likable and it is hard to enjoy a book when there isn't one single redeemable person in it. But I loved the book, nevertheless. I thought it was beautifully written, it had an original storyline, it blew like Saskatchewan wind and settled like Prairie dust. I loved the way the author gave us tiny hints of what was to come, subtle references to the future.
Norma Joyce:
"I'm the kind who reads other people's private mail. I'm the kind who sleeps with other women's husbands."
Norma Joyce thought Lucinda was a loser. The day they buried her, she read the letters and she said to herself: "I'm sorry, but you were the one who wasted your life."
To that, I would like to say: "And it's you who wasted your life, Norma Joyce." Because, for sure she wasted it. That obsession with a man who did not love her, did not want her. What did Norma Joyce do with her life? She found a job. Big Deal. Then she slept with a man she was not even attracted to, her best friend's husband.
That was actually what defined my opinion of Norma Joyce. Up until then, I had hope that she might give up on this Maurice person, and search (and find) love elsewhere. She did nothing. She painted and showed no one. She didn't "step out". Other than movies, she didn't benefit from living in New York at all. She worked in a dead-end job only to sleep with her employer to deceive one of the very few people that were kind to her. Her betrayal of Hilda was unforgivable. If it was a one-time thing, a passing mistake never to be repeated again, I would understand. But the systematic betrayal, day-in, day-out. She slept with Frank and she could face Hilda the next morning, a woman who took her under her wings, a woman who baby-sat her son. I think that is what I would call hitting the bottom. And she thought Lucinda was a loser who wasted her life.
I have some questions:
1. Do you think the author wanted us to like Norma Joyce, sympathize with her? Do you think the author liked Norma Joyce?

2. Was it because Norma Joyce fell in love with Maurice so early on in life, that she was not able to let go, or move on? What made Norma Joyce think that there was no other man on earth?

3. Did you relate to any of the characters?

4. Norma Joyce came back to Ottawa with her baby son and she was immediately accepted by her sister and father. No questions asked. The father loved the grandson and Lucinda loved her nephew. Then the news of Maurice moving to his parents' house with his new bride came along. Norma Joyce fled. He took the joy of the lives of Ernest and Lucinda away, and made it way too easy for Maurice. Why not stay there, let Maurice see his son everyday? Was this escape cowardly, in your opinion? Was it not out-of character for Norma Joyce?

5. Who was the young, skinny boy with greasy black hair, who attempted to attack Norma Joyce in an empty barn? Or was that scene/boy not important? "He'll be gone soon, the greasy young man who eats like a pig." (page 62) So, he was dining with them. Was he one of the poor people Lucinda gave food to? Or was he another student staying there?

6. The dream Lucinda had the night before she got killed in a car accident (or killed herself): What was that dream all about? The old neighbour woman with Lucinda? What are we to make of that? Does that mean Lucinda had lesbian desires? What did the money symbolize? Do authors use dreams as an opportunity to insert any non-sense they can come up with? Was Lucinda's dream out of place or could it be justified?

7. When Ernest was dying, he said: "Good…night….Lucinda." Norma Joyce answered: "And good night to you. Irene." Did Norma Joyce pick that name at random or do we know an Irene? I was puzzled by this. Why Irene?

8. At some point in her narration, Norma Joyce tells us that Hilda had seen herself and Frank together. This scene is never revealed to us. I know the author makes references to events that are yet to come, so I kept waiting for this but it never came. Do you think it actually happened? Did Hilda walk in on them one day? Norma Joyce tells us the disappointment, the sadness in her face. Was that only in her imagination? I suspect she would have to imagine such things facing every day the woman she betrays over and over again.

9. One last question: when I read stories that take place in the olden days I always wonder about the driver's licence? How do these people learn how to drive and obtain the right to drive? Was there no such thing as a driver's permit back then? Could anyone just hop into a Chevrolet and drive away? When was the driver's licence (and road test and written test etc. to get it) introduced?
That's all for now. I liked the book a lot but I wish I came to like Norma Joyce at least towards the end but I guess I was being very stubborn.
Lale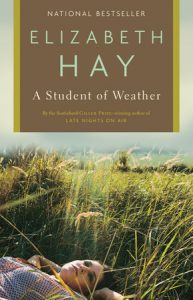 ~
Posted by len. on 5/4/2004, 8:54:49
Lale asks:

7. When Ernest was dying, he said: "Good…night….Lucinda." Norma Joyce answered: "And good night to you. Irene." Did Norma Joyce pick that name at random or do we know an Irene ? I was puzzled by this. Why Irene?
There is an old song, "Good Night, Irene". I don't know if this is the specific reference, but if it is, it could be just a throwaway, though the lyrics do have a certain irony given the story.
~
Posted by Lale on 5/4/2004, 10:08:13
: There is an old song, "Good Night, Irene".
It could very well be a reference to that song. I checked out the lyrics, they don't go very well with the story but still, that might have been what the author had in mind.
Lale